Angels' pitchers interviewed by federal agents as part of Tyler Skaggs' death investigation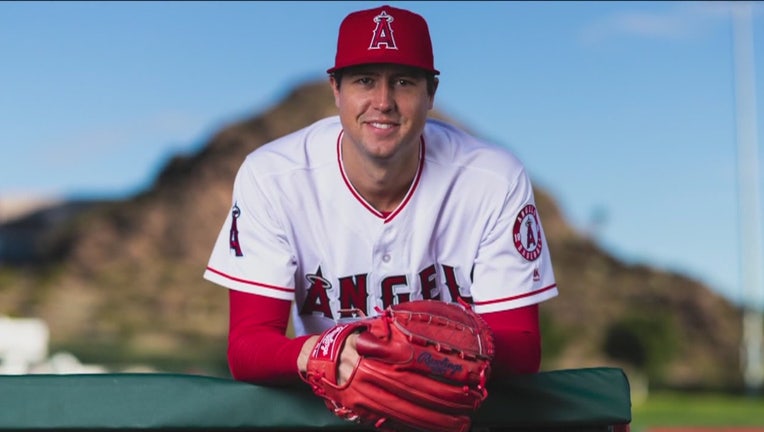 article
ANAHEIM, Calif. - At least six current or former Los Angeles Angels players have been interviewed by federal agents as part of an investigation into the drug-related death of pitcher Tyler Skaggs.
RELATED: Los Angeles Angels pitcher Tyler Skaggs dead at 27, team confirms
The players interviewed included pitchers Trevor Cahill, Andrew Heaney, Noe Ramirez and Matt Harvey, a person with knowledge of the interviews who was not authorized to speak publicly about them told the Los Angeles Times.
A representative for Cahill confirmed the player was interviewed by U.S. Drug Enforcement Administration agents in Texas in September, according to The Times.
Harvey was released by the team in July and the names of the other two players questioned were unknown.
Sources told the paper the players were not targeted for any specific reason and were not suspected of using drugs or of being involved in a possible crime, but rather agents wanted to know if opiate usage was widespread in the team's locker room or if they knew how Skaggs obtained drugs.
Autopsy: Angels pitcher Tyler Skaggs died of alcohol, drug intoxication
"Trevor was friends with Tyler, but all this other craziness that happened over the weekend was news to everybody,'' Cahill's agent John Boggs told The Times.
The 27-year-old Skaggs had opioids, fentanyl, oxycodone and alcohol in his system when he was found dead in his suburban Dallas hotel room July 1.
Eric Kay, a longtime media relations employee for the Angels, told federal agents he purchased and delivered opioids to Skaggs and used drugs with the pitcher for several years and was in Skaggs' hotel room when the player snorted three lines of crushed opioids in front of him, ESPN reported Saturday.
Kay is being treated for his addiction. His attorney, Michael Molfetta, said his client was cooperating with federal agents in the hope of a lesser sentence if he is charged with a crime.
Messages between Kay and Skaggs showed the player sending money to Kay to purchase the drugs, ESPN reported.
The network also reported Kay told federal investigators he alerted the team's former vice president of communications, Tim Mead, and the traveling secretary, Tom Taylor, about Skaggs' drug use. Both men denied the claim.