LA County will have an all female Board of Supervisors for the first time in history
LOS ANGELES - For the first time in history, the LA County Board of Supervisors will be run by five women. Thanks to a victory by State Senator Holly Mitchell over LA City Councilman Herb Wesson.
The Five Little Kings and now Queens…. Supervisor Sheila Kuehl, Supervisor Holly Mitchell, Supervisor Hilda Solis, Supervisor Kathryn Barger and Supervisor Janice Hahn.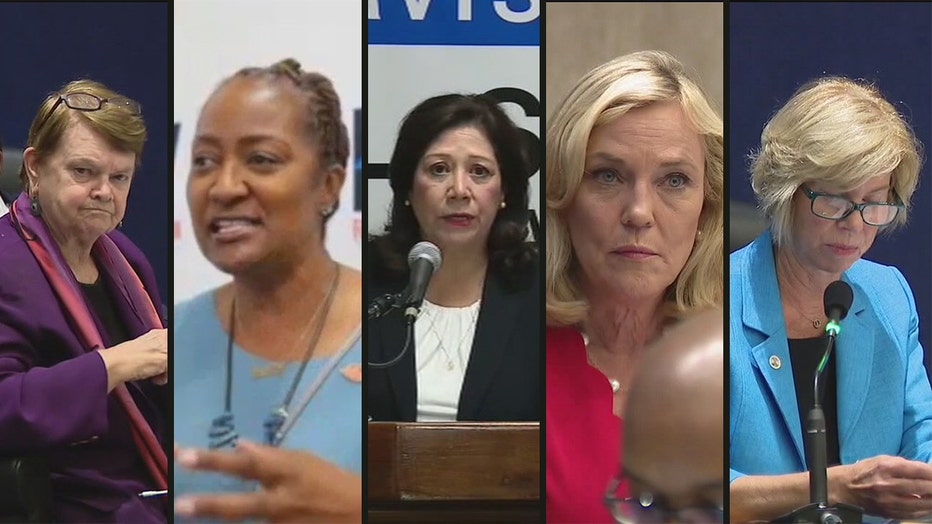 Results from Tuesday night's election showed Mitchell with a surprisingly wide margin, pulling in nearly 61% of the vote, collecting roughly 100,000 more votes than Wesson.
Strange sounding, if true, footnote to the history of Los Angeles, as five of the most powerful locally elected politicians are all women.
Mitchell, State Senator for California's 30th district, will now lead the 2nd Supervisorial District.
"I am deeply honored to have earned the opportunity to represent the residents of the Second Supervisorial District,'' Mitchell said Wednesday. "This seat has always been hard fought and rightfully so, because of the immense responsibility the Board of Supervisors have in creating policies that will impact over 10 million residents. My opponent, Herb Wesson, has dedicated his life to serving our community. I applaud his impressive body of work and share in his commitment to fighting for the residents of the Second Supervisorial District," she added.
The Board now has five women of very different backgrounds: an African American from Crenshaw, the daughter of Mexican and Nicaraguan immigrants, the first member of the LGBT community on the board, a staunch republican, and a left-leaning member of one of the most progressive political families in the nation.
The Board of Supervisors controls a $37 billion budget and more than 110,000 county employees working to combat homelessness, manage the county jail and hospital systems, and oversee child welfare, public safety and myriad other programs for more than 10 million county residents in 88 cities and unincorporated areas.
Get your top stories delivered daily! Sign up for FOX 11's Fast 5 newsletter. And, get breaking news alerts in the FOX 11 News app. Download for iOS or Android.