Customer dragged 20-feet to her death when elderly driver hits gas instead of brake at car dealership
LOS ANGELES - One person is dead and two others injured after an elderly woman driving an SUV struck them at a Toyota car dealership in the San Fernando Valley Wednesday morning, officials said.
Just after 9:10 a.m., first responders were called to Hamer Toyota in the 11000 block of Sepulveda Boulevard, near the intersection of San Fernando Mission Road, in the Missions Hills area.
Officials said an 84-year-old woman in a Toyota RAV4 with handicap license plates drove the vehicle into the covered service bay driveway and crashed into a customer reception area within the dealership. It was unclear what caused her to crash through the business, although a police investigator at the scene said the driver mistakenly hit the accelerator instead of the brake.
An official with the Los Angeles Fire Department said that a 55-year-old woman described as a customer at the dealership was briefly trapped beneath the vehicle and was freed by bystanders. She was taken to a hospital in grave condition, but she later died, police said.
Two men who worked at the dealership - a 23-year-old man and a 35-year-old man - were also injured, including one with a head wound, but their injuries were considered non-life-threatening, according to the fire department. Both are expected to make a full recovery.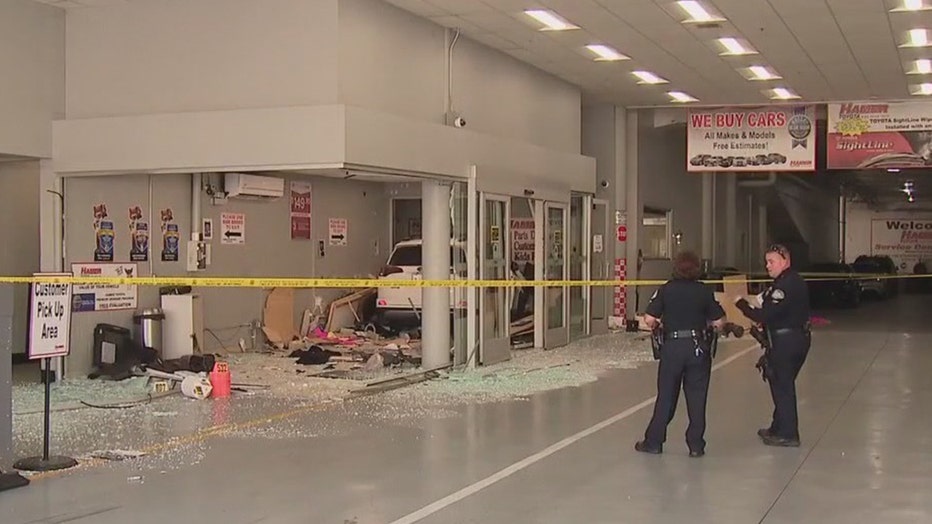 The elderly driver was not injured in the crash and she declined to be taken to a hospital, fire officials said. She remained at the scene and was being interviewed by police. The woman was not arrested.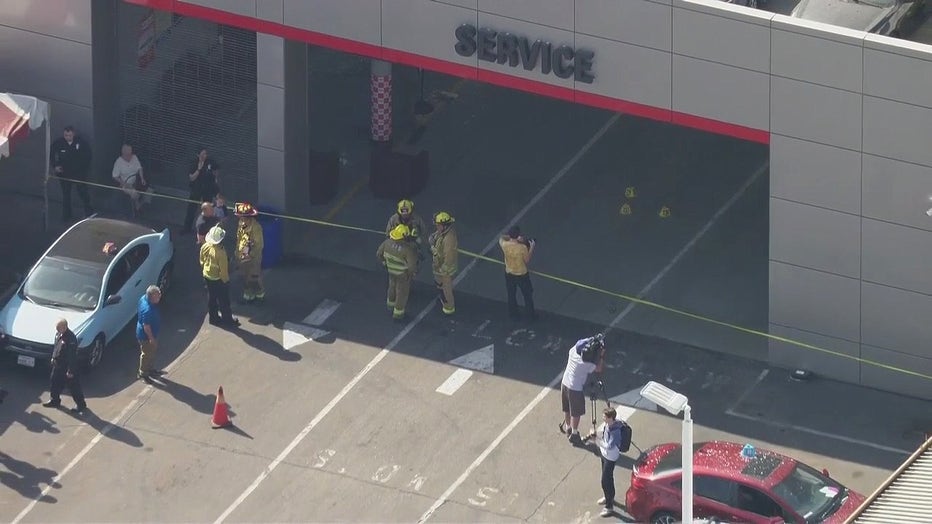 A vehicle hit and injured four workers at a car dealership in Mission Hills, according to the Los Angeles Fire Department.  (FOX 11)
"All drivers are reminded to drive with due care, free of distractions, and be mindful of potential hazards," the LAPD said in a statement.
The investigation is ongoing. 
Anyone who may have witnessed or have information regarding this collision is urged to contact Valley Traffic Division, Officer Garcia, at (818) 644-8117 or Detective Otrosina at (818) 644-8033. 
CNS contributed to this report.