3, including cop, hospitalized after Beaumont police chase ends in shooting
BEAUMONT, Calif. - Three people, including a Beaumont Police officer are in the hospital after a police chase overnight led to a shooting, according to officials. 
Beaumont Police officers tried to perform a traffic stop on a pickup truck around 12:45 a.m. Saturday. When officers tried to approach the pickup truck the truck drove away. Officers chased the truck.
During the pursuit, the driver took the truck down a cul-de-sac on Xenia Avenue. When the truck got to the end of the road, the driver turned the truck around and rammed into police cars, according to officials. That's when police shot at the pickup truck.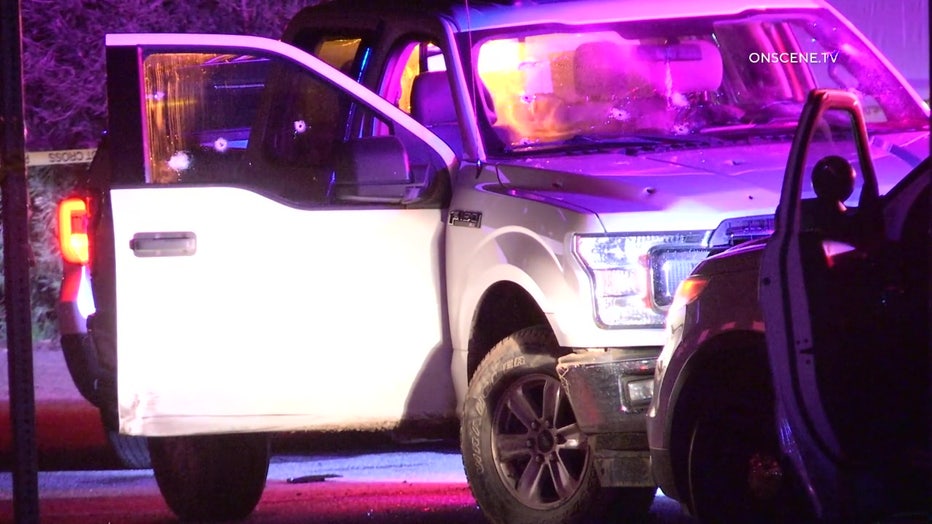 A white pickup truck involved in a police shooting in Beaumont on Jan. 14, 2023.
SUGGESTED: Darnell Calhoun: Riverside County deputy dies after shooting in Lake Elsinore
According to officers, there were three people in the pickup truck. The driver and one of the passengers were taken to the hospital for gunshot wounds. The driver was listed in critical condition Saturday, while the shot passenger was treated for non-life-threatening injuries. The third passenger complained of pain, but was not hospitalized according to police.
One police officer was also injured when the pickup truck driver allegedly rammed into police cars. That officer has also been hospitalized.
Officials have not released the names of the suspects in the pickup truck or the officers involved in the shooting. The officers involved have been placed on administrative leave and the Riverside County Sheriff's Department is investigating the shooting. 
Anyone with information about the incident was asked to call detectives at 951-769-8500.