2020 Rose Parade guide: Everything you need to know
PASADENA, Calif. - Thousands of people are preparing to descend on Pasadena Wednesday to witness the Tournament of Rose, which is best known for its two most famous events: the Rose Parade and the Rose Bowl Game. 
The Rose Parade is a 131 year old tradition that brings residents and visitors together on New Year's Day to watch grand floats covered in flowers, massive marching bands that can exceed 300 members, and equestrian units like the Anheuser-Busch Budweiser Clydesdales. The parade kicks off at 8 a.m. Wednesday.
Related:
• Many prepare to descend on Pasadena for annual Rose Parade
• Behind the scenes: A look into the yearlong process of making Rose Parade floats
Parade Route
The 5.5-mile parade route, which lasts about two hours, begins at the corner of Green Street and Orange Grove Boulevard in Pasadena. The route travels north on Orange Grove Boulevard at a leisurely pace and then turns east onto Colorado Boulevard. Near the end of the route, the parade turns north onto Sierra Madre Boulevard and concludes at Villa Street.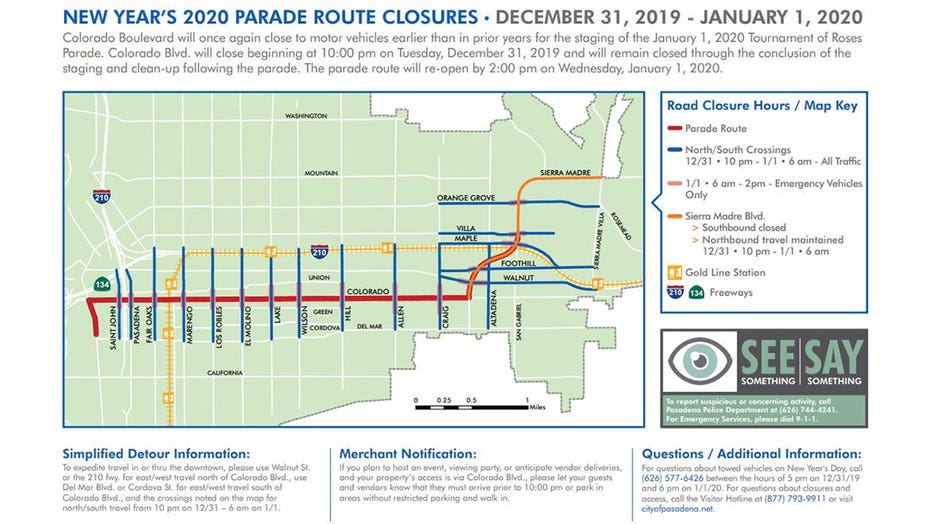 Road Closures
Colorado Boulevard will be closed to drivers beginning at 10 p.m. Tuesday, December 31, and will remain closed through the conclusion of the staging and clean-up following the parade. The parade route will re-open by 2:00 p.m. on Wednesday, January 1.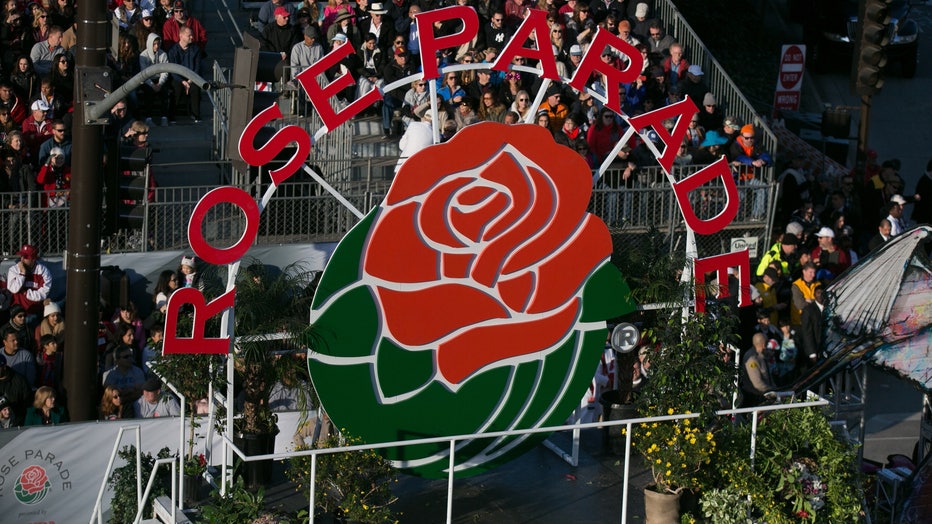 PASADENA, CA - JANUARY 01: A general view of atmosphere and floats at the 2018 Tournament of Roses Parade presented by Honda on January 1, 2018 in Pasadena, California. (Photo by Gabriel Olsen/FilmMagic) (Getty Images)
Anyone who needs to travel to or through downtown was asked to take Walnut Street or the 210 Freeway for east/west travel north of Colorado Boulevard, and use Del Mar Boulevard or Cordova Street for east/west travel south of Colorado Boulevard.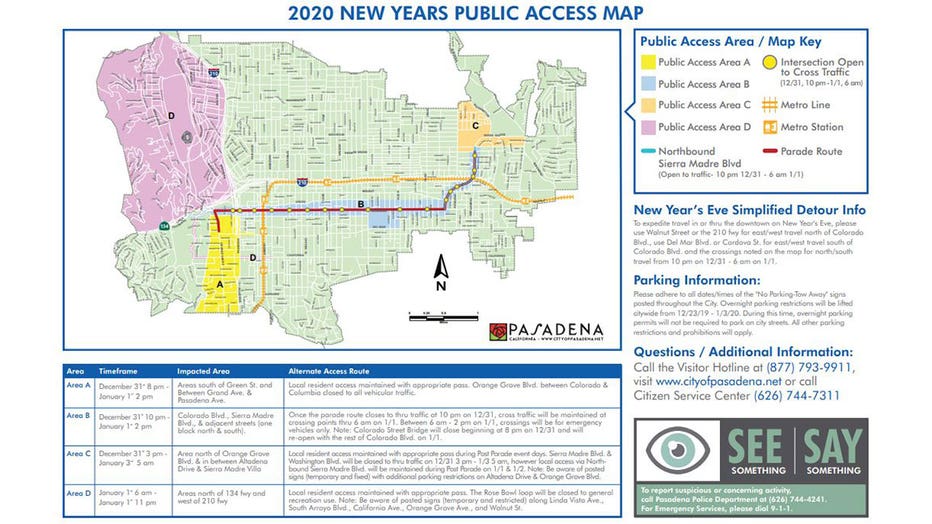 Parade Seating
You can choose to camp out to get a free spot in designated areas throughout the route, or you can purchase tickets to sit in bleachers (grandstand seats). Grandstand tickets range from $60 to $110 based on location. If you opt for a free spot, keep in mind that it is available on a first-come, first-served basis at three stretches along the parade route. People camp out for a spot as early as 12 p.m. Tuesday, the day before the parade.

 Click here for information on wheelchair accessible seating.

Parking
Streets along and adjacent to the parade route will be posted with temporary "No Parking – Tow Away" signs. Drivers were asked to adhere to the posted parking restrictions to avoid getting their vehicle towed. Reserved parking is available in advance through Sharp Seating Company (626-795-4171); Colorado Boulevard Parking (858-692-0868 or 949-295-6537); City of Pasadena (626-744-6470); LAZ Parking (626-578-1705); Easy Parking Service (626-286-7576) and AP Parking (858-692-0868).
Paid parking is also available on a first-come, first-served basis at various lots and parking structures near the parade route.
There is no parking allowed on the parade route itself. Illegally parked vehicles will be impounded, parade officials warn.