2 men arrested for attempted murder in Eagle Rock fire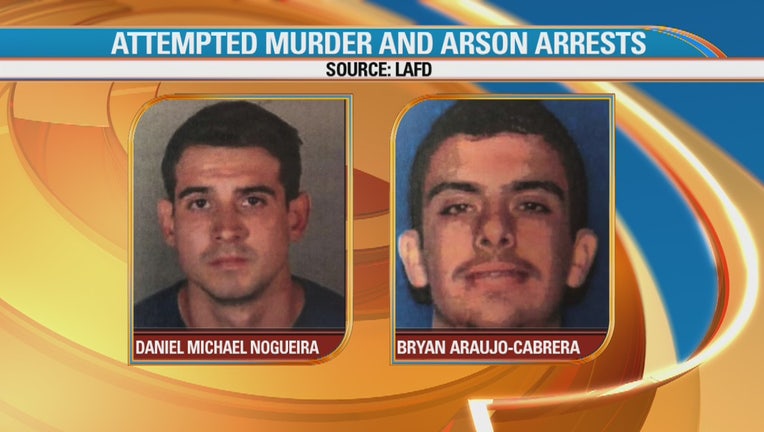 LOS ANGELES - Two men have been arrested for attempted murder and arson in connection to the fire in Eagle Rock that broke out on Aug. 25 near a homeless camp and scorched over 45 acres.
The Los Angeles Police Department confirmed the arrest and charges on Tuesday and identified the suspects as 25-year-old Daniel Michael Nogueira, and 25-year-old Bryan Antonio Araujo Cabrera.
RELATED: Fire crews battle large brush fire near Eagle Rock; evacuations lifted
The arrest occurred on Aug. 31 at 7:30 a.m., LAPD said.
Nogueira's bail has been set at $1 million while bail for Araujo Cabrera is set at $1,116,000.
The fire began shortly after 4 p.m. near the 2900 block of Colorado Boulevard after someone inside a pickup truck reportedly got into an argument with transients at the homeless camp and then tossed an incendiary device towards the encampment with the intention of killing campers, according to City News Service.
The fire threatened several homes and closed the 134 and 2 Freeways before firefighters fully contained it two days after it broke out.
CNS contributed to this report.