Fire crews battle large brush fire near Eagle Rock; evacuations lifted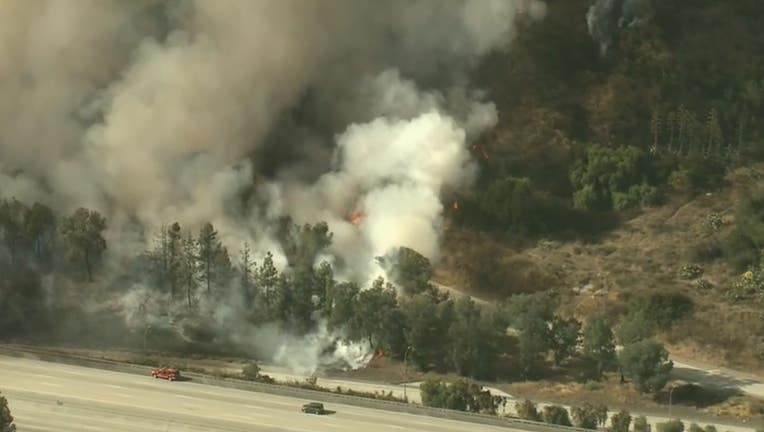 LOS ANGELES (FOX 11) - The Los Angeles Fire Department is battling a large brush fire near Eagle Rock that has scorched at least 30 acres and is 25 percent contained, according to the Glendale Fire Department.
As of 10 p.m. Sunday night all mandatory evacuation orders were lifted, according to authorities.
"All forward progression stopped, Expect continued road closures & traffic, Evacuation center at the Civic Auditorium expected to remain open until 10 p.m.", the department tweeted.
An evacuation center was established at the Civic Auditorium at 1401 North Verdugo Road in Glendale, officials said.
Watch Video: LAFD Fire Chief gives an update on Eagle Rock/ Glendale brush fire:
The blaze broke out Sunday afternoon on the 2900 block of Colorado Blvd. near the 134 Freeway and the 2 Freeway. 
According to the City of Glendale, evacuation orders are in place on Glenoaks from Mount Carmel to Bywood, including all streets in between.
The LAPD Headquarters tweeted out:
The LAPD has several units on scene assisting with traffic control on this brush fire, which from initial reports started in the City of LA and has since moved into the City of Glendale. There are NO evacuations in the City of LA.
Several roads and freeways have been shut down as crews try to contain the massive fire. 
According to the California Highway Patrol all westbound lanes on the 134 from Figueroa St. have been shut down and all eastbound lanes from Glendale Blvd. have been shut down. 
All south and northbound lanes on the 2 near Mountain Blvd. have been shut down, as well as the I-5 transition to the 2 freeway. The closure may impact traffic on the Ventura (101) Freeway.
The fire department says the fire is slowly backing towards homes.
In addition to Los Angeles County and Glendale firefighting resources,the LAFD has committed at least 143 firefighters to battling this major emergency
There were no reports of structure damage or injuries.
The cause of the fire is unknown.
This is a developing story. Please check back for updates.