The search continues for a $1.5 million, 250-pound Buddha statue stolen from a West Hollywood gallery
LOS ANGELES - Authorities are searching for information regarding the theft of a nearly 250-pound Buddha statue worth approximately $1.5 million that was stolen from a gallery near West Hollywood.
Officers responded to a burglary call shortly before 10:30 a.m. on Monday, Sept. 18 to the Barakat Gallery at the 900 block of N. La Cienega Blvd., between Melrose Ave. and Santa Monica Blvd.
The statue from Japan's Edo Period (1603-1867) was stolen around 3:45 a.m Monday morning according to the gallery's surveillance footage.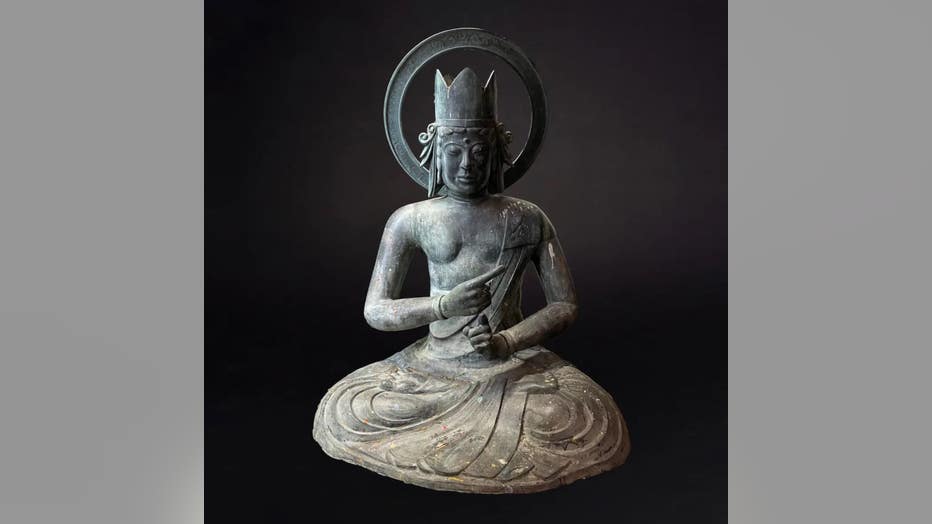 The stolen Edo Period bronze sculpture of the Buddha (1603-1867)
The suspect allegedly broke into the entrance through a driveway gate and used a dolly to move the statue onto a truck within 25 minutes, according to the footage.
Gallery official Paul Henderson said he was shocked that a lone thief managed to steal the 4-foot-tall statue despite its weight and drive off with it in a Budget rental truck. Henderson and his colleagues said that they believe the robbery was premeditated.
An artist named Tadazou Iinuma is credited with creating the sculpture, according to reports.
The sculpture bears an inscription, which implies the Buddha was commissioned by a religious official named Ryozen and was likely once installed at the Yudo-no-San Temple, a holy site on Japan's Mount Yudono, according to gallery officials.
In addition to the Los Angeles location, Barakat also has galleries in London and Seoul.
The police did not provide any further information on the burglary or potential suspects. 
Anyone with information about the stolen sculpture was urged to contact the Los Angeles Police Department at 1-877-275-5273.
City News Service contributed to this report.