The Issue Is: Presidential Race and Coronavirus
LOS ANGELES - It's been another chaotic week in American politics: Millions of Americans in 15 states and territories cast their primary ballots, four major candidates suspended their campaigns, Coronavirus fears skyrocketed, and the stock market felt the impact of it all.
Here to break everything down, Elex Michaelson is joined by an all-star panel of political insiders, political strategist and director of the USC Dornsife Center for the Political Future Bob Shrum, attorney and best-selling author Areva Martin, and GOP strategist and commentator John Thomas.
----------
The discussion kicks off with talk of the Presidential race.
Last week, Joe Biden looked dead in the water. After finishing 4th, 5th and 2nd in the first three contests, Biden's third shot at the Presidency looked like it was reaching its inevitable end.
Then, following a string of major endorsements, Biden won 10 contests on Super Tuesday, cementing himself once again as the party's frontrunner.
"This is unprecedented," Shrum said. "We have never seen anybody recover as swiftly as he did. No one has ever lost those early primaries in that kind of shellacked way and then come back and become, in the space of 48 hours, the overwhelmingly likely nominee of the Democratic party."
But what about Senator Bernie Sanders? After the first three contests, Sanders was leading the delegate race, he was poised to perform incredibly well on Super Tuesday, but then, after a spate of fallen Democrats endorsed Biden, the tides turned, and Sanders' lead slipped away.
"Rightly or wrongly, people have decided that Biden has the best chance to beat Donald Trump, and I think it's way too late for Bernie Sanders, at this point, to make that case," Shrum said.
Martin added that Sanders has neglected the African American community this go-around, pointing to his decision to campaign in California for a rally rather than travel to Alabama to march along the Edmund Pettus Bridge with civil rights leaders.
While the race morphs into its next phase, a two-man race between Biden and Sanders, the panel also acknowledged those candidates we lost on Super Tuesday.
"What happened with [Elizabeth Warren] is the same thing that happened with all the women," Martin said. "Like the millions of other women in this country, we think it's time that there is a female President. But, there is this big issue of electability... and people, even though they believed in Elizabeth Warren's message, they thought she was a great messenger, they had doubts about whether she could beat Donald Trump in a general election."
Thomas, for his part, disagreed with the electability argument, saying Warren flubbed her run, being unable to explain her healthcare plan and peaking in the polls way too early to maintain her momentum.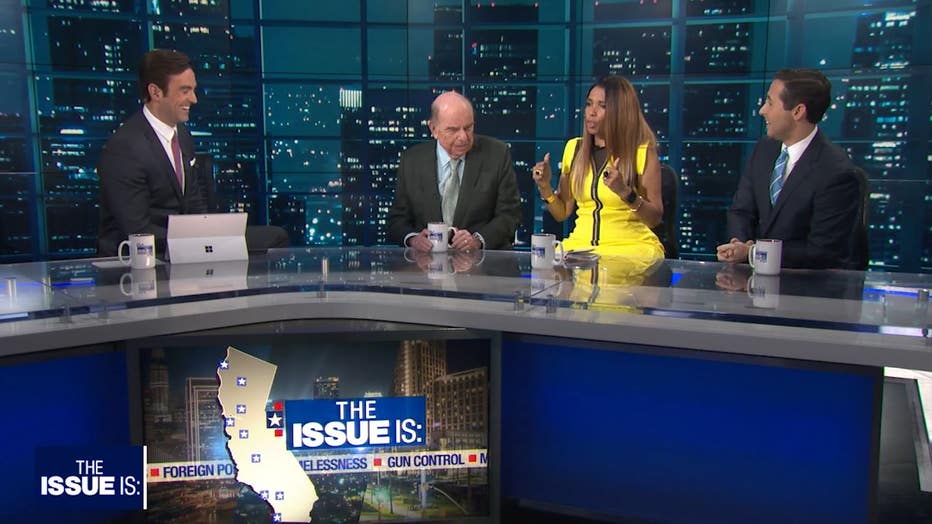 ----------
From national politics, the conversation then turned to state races throughout California, where millions of ballots are still being counted.
PROP 13: Despite the backing of Governor Newsom and a majority of members within the CA State Senate, this $15 billion school bond failed to pass.
CONGRESSIONAL DISTRICT 25: Congresswoman Katie Hill (D) resigned last year after being embroiled in personal scandal. Now, Christy Smith (D) and Mike Garcia (R) are set for a runoff in May to fill the vacant seat and finish off the current Congressional session. The two will then face off again in November for the General Election.
CONGRESSIONAL DISTRICT 50: Representative Duncan Hunter (R) resigned after pleading guilty to campaign finance violations. Now, the stage is set for a matchup in November between Ammar Campa-Najjar (D) and Darrell Issa (R), who looks likely to return to Congress after retiring in 2019.
----------
We wrap things up with our panel with a discussion of the coronavirus.
This week, the number of fatalities in the US rose to 16, the number of confirmed cases in Los Angeles county hit 13, and Congress approved an $8 billion spending package to deal with the potential pandemic. While the focus remains on health and safety, many question the political implications of a growing crisis.
"This is the biggest test, probably, in Trump's presidency," Martin said. "And so far, he's been doing an absolutely abysmal job."
Thomas disagreed, adding that people should put things in perspective by looking at the mortality rates of the seasonal flu: "Part of the President's job is to calm people, but obviously take action. As much as we say that Trump can accelerate things beyond where they should be, for once he's trying to calm people, because we don't want the markets over-reacting, because the fact is this could be devastating to the economy."
Shrum echoed Thomas' economic assessment, saying that should the economy fail as a result of coronavirus, President Trump has nothing left to stand on in his bid for re-election.
When asked about the "conspiracy theory" that President Trump appointed Vice President Pence to lead the effort against coronavirus in a ploy to find reason to replace him on the ticket with Nikki Haley, all three panelists said stranger things have happened.
----------
"This Issue Is" ends with an exclusive one-on-on with legendary anchor, and cancer research advocate, Katie Couric.
20 years ago, Couric made television and medical history by broadcasting her colonoscopy live on The Today Show.
In the years since, Couric's actions have encouraged countless individuals to get tested for various forms of cancer.
"Doctors have said to me 'Katie, you've saved more peoples' lives than we have,'" Couric said about what doctors have come to refer to as 'The Couric Effect.'
Twelve years ago, Couric also helped to found the organization Stand Up to Cancer, which supports 180 institutions, 1,600 scientists, and has garnered $600 million in donations.
"The first line in my obituary, I hope, will talk about my cancer advocacy work," Couric said. "Because other than raising my daughters, it's my proudest accomplishment."
The Issue Is: with Elex Michaelson is California's only statewide political show. For airtimes and more information, go to TheIssueIsShow.com.