World Cup Wednesday guide: Messi and Argentina advance; Mexico falls short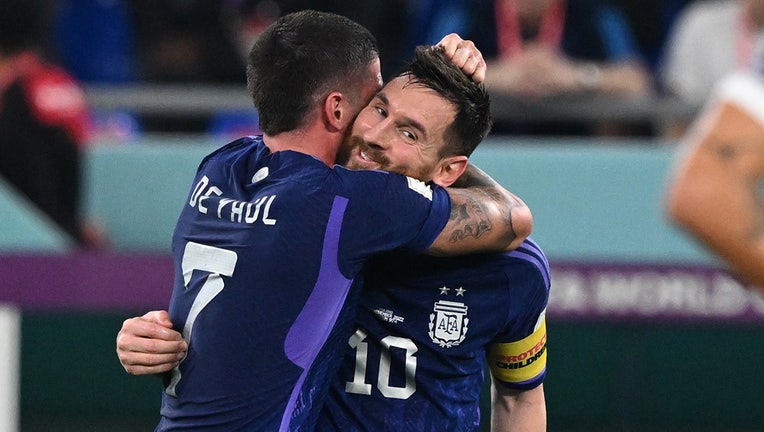 article
DOHA, Qatar - Rest easy, soccer fans. Lionel Messi will grace the World Cup stage at least one more time.
The Argentina great had a penalty saved but his team still beat Poland 2-0 Wednesday after second-half goals from Alexis Mac Allister and Julian Alvarez and advanced to the last 16.
Argentina finished in first place in Group C to set up a match against Australia, a surprise qualifier for the knockout stage.
It's a strong position for Argentina to be in, especially considering the team opened the World Cup with a shocking 2-1 loss to Saudi Arabia in one of biggest upsets in the tournament's history. Messi's likely final World Cup rolls onto Saturday.
He will be relieved after failing to score a penalty for the second straight World Cup. It was awarded after being hit in the face by the flailing hand of Poland goalkeeper Wojciech Szczesny, who made amends by diving to his left to block Messi's kick.
Mac Allister converted a cross from Nahuel Molina inside the first minute of the second half and Alvarez — selected ahead of Lautaro Martinez — curled the second into the top corner in the 67th minute.
RELATED: US advances at World Cup with 1-0 win over Iran; Pulisic injured
Mexico 2, Saudi Arabia 1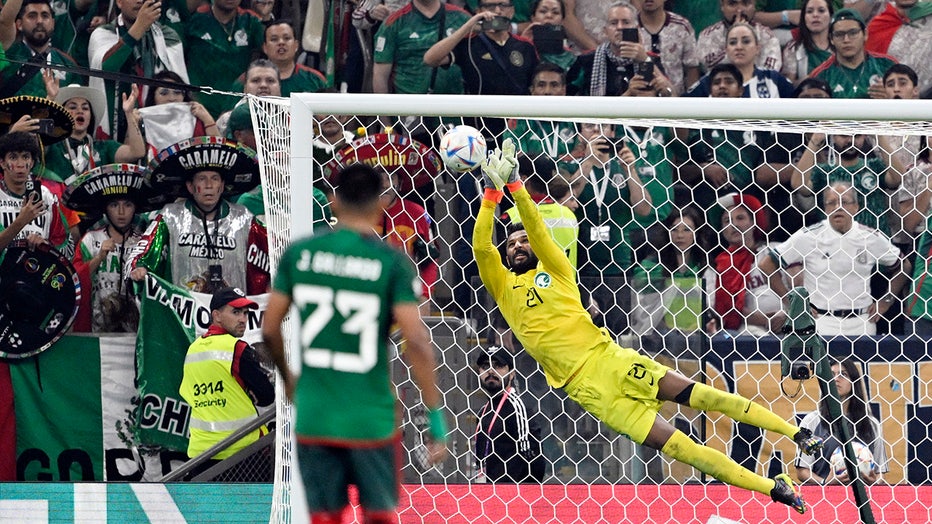 Saudi Arabia's goalkeeper Mohammed Al-Owais (R) makes a save during the Qatar 2022 World Cup Group C football match between Saudi Arabia and Mexico at the Lusail Stadium in Lusail, north of Doha on November 30, 2022. (Photo by PATRICIA DE MELO MOREIR
Henry Martin and Luis Chaves each scored in Mexico's furious attempt to stay alive at the World Cup, but the 2-1 victory Wednesday night over Saudi Arabia was not enough.
Because of Argentina's 2-0 victory over Poland in a simultaneous match, Mexico failed to advance out of its group for the first time since 1978.
Mexico had reached the round of 16 at the last seven World Cups, which was tied with Brazil for the longest current streak.
El Tri went into the match at Lusail Stadium needing both a victory and help from Poland playing across town against Argentina to advance in Group C. Argentina's victory meant goal difference came into play.
Martin scored in the 48th minute to give El Tri hope, and the team's chances got even better with Luis Chavez's goal on a free kick four minutes later.
Mexico tried desperately in the final 20 minutes to get another goal — including an effort by Uriel Antuna in the 87th minute that was ruled offside — but came up short.
World Cup: What Mexico needs to advance to the knockout round
Tunisia 1, France 0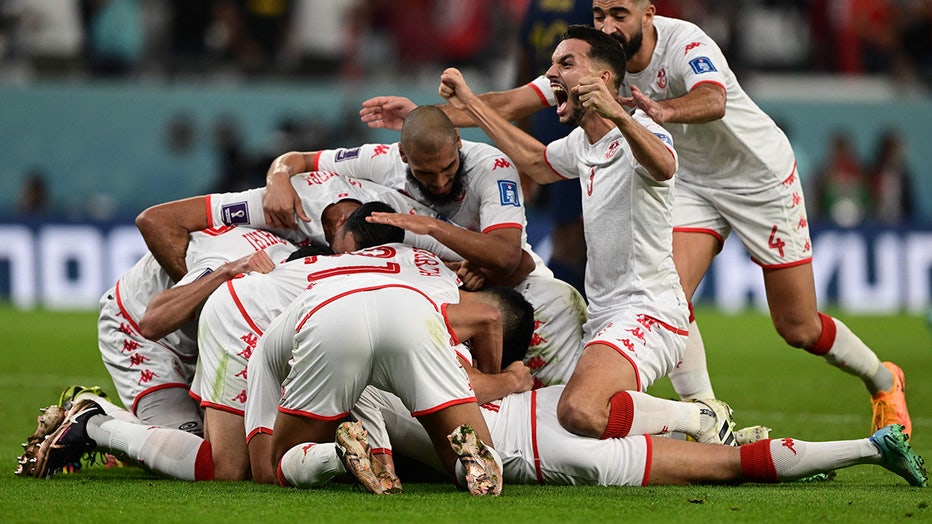 Tunisia's forward Wahbi Khazri celebrates with teammates after scoring his team's first goal during the Qatar 2022 World Cup Group D football match between Tunisia and France at the Education City Stadium in Al-Rayyan, west of Doha on November 30, 20
Defending champion France won its World Cup group despite losing to Tunisia 1-0 Wednesday.
Wahbi Khazri scored in the 58th minute to give the Tunisians the victory, but it wasn't enough to get them into the round of 16. Australia beat Denmark 1-0 in other Group D game and finished second on goal difference.
Khazri ran at the heart of the French defense and beat two players before poking the ball into the bottom corner. He fell to his knees and was mobbed by teammates. When he got back up, he made a heart shape to the Tunisian fans behind the goal and then limped off, appearing to hurt himself as he fell when scoring his 25th international goal and his third at World Cups.
It was Tunisia's third victory at a World Cup, and it was France's first loss at the tournament since the 2014 quarterfinals, when Germany beat the team 1-0.
France forward Antoine Griezmann thought he had evened the score in the eighth minute of stoppage time but he was ruled offside following a video review. At the same time, Tunisia's players on the bench crowded around a TV monitor hoping for a Denmark goal that would have changed the group standings.
A few minutes after Khazri's goal, a man ran onto the field at Education City Stadium with what appeared to be a Palestinian flag. He did some acrobatic jumps before six security officials dragged him off.
With France already qualified for the knockout stage, coach Didier Deschamps rested Griezmann, Kylian Mbappé and most of his regular starters. Only four of the team lining up at the beginning had even started a World Cup match before.
But Khazri's goal prompted Deschamps to bring on Mbappé and Griezmann and the increased urgency almost led to an equalizer.
Deschamps had selected more of a "C" team than a "B" team. Randal Kolo Muani struggled to make an impact at center forward and Kingsley Coman — who scored Bayern Munich's winner in the 2020 Champions League final — was isolated.
France central defender Raphael Varane, however, mopped up on the occasions Tunisia got close to the penalty area in the first half.
Australia 1, Denmark 0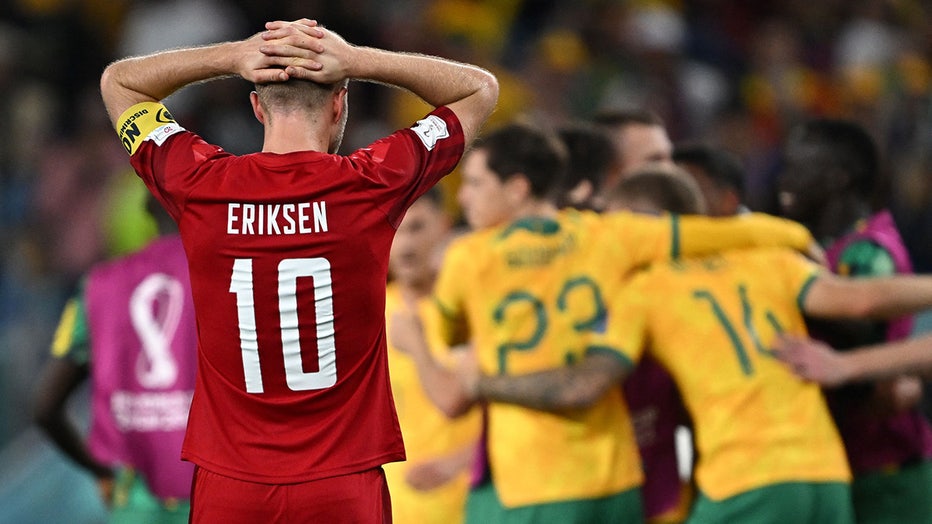 Denmark's midfielder Christian Eriksen (L) reacts after Australia won the Qatar 2022 World Cup Group D football match between Australia and Denmark at the Al-Janoub Stadium in Al-Wakrah, south of Doha on November 30, 2022. (Photo by PAUL ELLIS/AFP vi
Australia advanced to the round of 16 at the World Cup, beating favored Denmark 1-0 Wednesday on Mathew Leckie's 60th-minute goal.
It is Australia's first time in the knockout stage since 2006, the only other time they advanced out of the group stage.
Leckie took a pass near the center circle and moved around a Danish defender before hitting a left-footed shot past goalkeeper Kasper Schmeichel diving to his left.
Australia finished with six points in Group D. Defending champion France won the group on goal difference despite losing to Tunisia 1-0 in the other group match.
The World Cup proved to be a major disappointment for Denmark after reaching the semifinals in the 2020 European Championship. They slogged through a 0-0 draw in their opening match with Tunisia and then recovered in a 2-1 loss against France.
Denmark dominated possession through much of the game but could not generate enough chances.
Denmark's Mathias Jensen had one of his team's best chances of the game in the 10th minute, but Australia goalkeeper Matthew Ryan came up with a point-blank save.
Referee Mustapha Ghorbal handed a yellow card early to defender Aziz Behich as Australia defended tenaciously from the start and counterattacked when possible.
Australia started the second half on the front foot as Jackson Irvine fired a good chance over the crossbar. But the Socceroos quickly reverted to defending before breaking through with Leckie's goal.
On two late corners Schmeichel sprinted upfield to put himself into the mix in front of the goal as Denmark searched for a goal. Aussie keeper Ryan caught one corner and Schmeichel scurried back. He came all the way back on a second corner with about a minute remaining, but that attempt also amounted to nothing.
FIFA World Cup 2022 schedule: Here's when your favorite teams play