LeBron, Lakers stage 4th-quarter rally to beat KD, Suns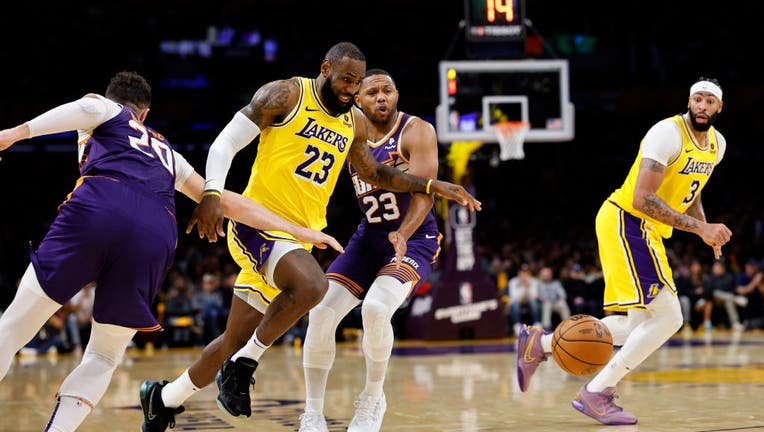 article
LOS ANGELES (AP) - Anthony Davis had 30 points and 13 rebounds, LeBron James scored 10 of his 21 points while playing the entire fourth quarter, and the Los Angeles Lakers blew past Phoenix in the final minutes for a 100-95 victory over the short-handed Suns on Thursday night.
James made the tiebreaking layup with 1:11 to play for the Lakers, who rallied from a 12-point deficit entering the fourth to get their first victory of the new season in the home opener of James' 21st NBA campaign.
Kevin Durant had 39 points and 11 rebounds for the Suns, who played without injured stars Devin Booker and Bradley Beal. The Suns led 84-72 entering the fourth, but missed 13 of their next 14 shots and committed 10 turnovers in the next 10 minutes.
Durant still tied it at 91 with 1:28 to play by scoring on two straight possessions, and he passed Hakeem Olajuwon for 12th place on the NBA's career scoring list in the process.
But James replied with back-to-back layups sandwiching a missed 3-pointer by Durant, and Austin Reaves and Davis hit free throws in the final seconds.
Durant and James improbably hadn't faced each other on an NBA court since Christmas 2018. Injuries, load management and health and safety protocols prevented them from playing in the previous 13 meetings between James' Lakers and Durant's Warriors, Nets and Suns.
Eric Gordon added 15 points in Suns coach Frank Vogel's first trip back to face the Lakers, who fired him 18 months ago after three seasons and one NBA title.
James and the Lakers acknowledged plans to limit his minutes this season, but the plan wasn't followed while James stayed on the court throughout the fourth to sweat out this win.
James is entering his third NBA decade with the Lakers determined to limit his minutes for health optimization, yet Los Angeles struggled mightily whenever James was off the court in the first half.
The Lakers honored Vogel with a tribute video in the first timeout. Vogel led the Lakers to the franchise's 17th championship three years ago this month in the Florida bubble, but they dismissed him exactly 18 months later when his injury-plagued team missed the playoffs.
Booker sat out with left foot soreness after tweaking his foot late in his 28-point performance against Golden State on Tuesday. Beal still hasn't made his Suns debut due to lower back tightness.
Los Angeles played without Jarred Vanderbilt, who has left heel bursitis. Vanderbilt seems likely to replace Taurean Prince in the Lakers' starting lineup when healthy. Prince went scoreless in 18 minutes.