Lakers' Anthony Davis expected to play Game 6 despite Wednesday's concussion scare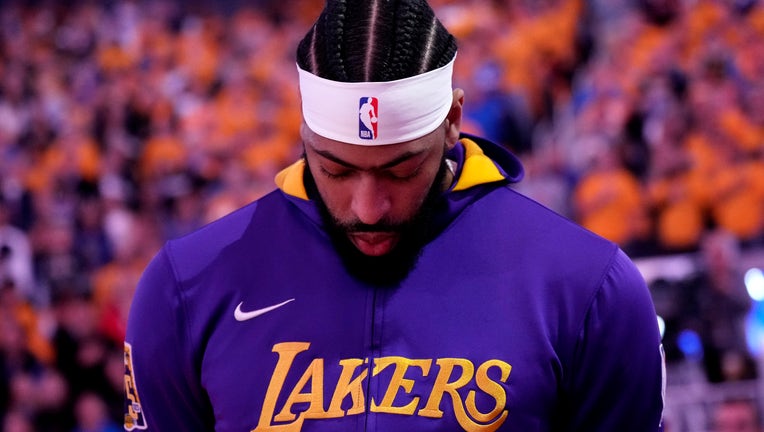 article
SAN FRANCISCO (AP) - Lakers coach Darvin Ham said he expects Anthony Davis to play Friday night in Los Angeles, adding that the eight-time All-Star big man is "not showing any signs of anything" and is not in the NBA's concussion protocol after being hit in the head late in Game 5 of the Western Conference semifinals.
"We checked in with him, and he's feeling great," Ham said. "Our medical staff gave us a great update. He's not in the (concussion) protocol."
Davis is listed as probable for Game 6 against the Golden State Warriors.
"It's huge," Ham said. "He's the centerpiece of what we're trying to do on both sides of the ball, and for us just in general, our success rate. So that was great, great news."
Davis was hurt by what appeared to be an inadvertent shot to the head from Golden State's Kevon Looney midway through the fourth quarter of the Warriors' 121-106 victory in San Francisco.
Davis grabbed at his head grimacing on the bench before going to the locker room following the play with 7:43 remaining. He and Looney were battling for position in the paint on a driving layup by the Lakers' D'Angelo Russell.
TNT reported Davis required a wheelchair to go to the locker room, but he walked out of Chase Center on his own.
Ham confirmed that the Lakers' medical staff had performed proper evaluation of Davis and any potential head injury.
"We follow protocol, not just with AD, but with any of our players, any of our employees," Ham said.
The Lakers lead the best-of-seven series 3-2.
Davis finished with 23 points on 10-for-18 shooting, nine rebounds and three assists, but didn't block a shot.
After the game, teammate Austin Reaves said Los Angeles would be ready with or without Davis.
"Obviously, AD is huge to what we do. I believe he'll play, but if that's not the case, we're still a group of NBA basketball players that have played games without him this year," Reaves said. "You never want to play a big game without a guy like that. But that's the nature of the game."
Stephen Curry and the Warriors fully expected to see AD in Game 6 as they left Game 5.
"I have no idea what happened to him or what his situation is," Curry said, "but I would say yeah."
SERIES SCHEDULE
*= if necessary
AP Freelance Writer Ben Ross contributed to this report.