Kings' Doughty eager to battle McDavid, Oilers in playoffs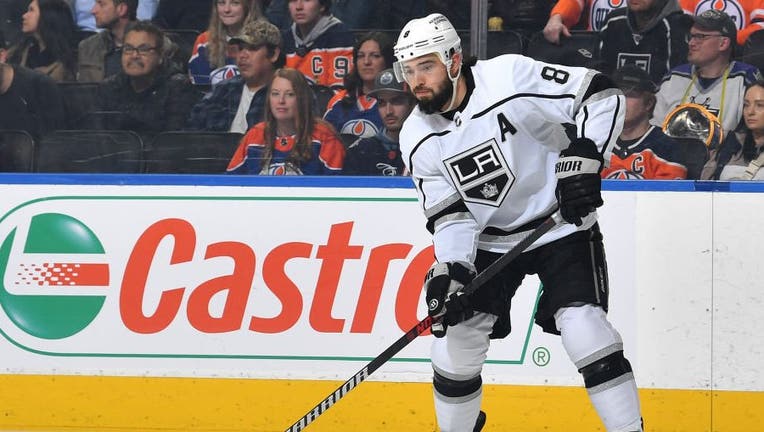 article
EDMONTON, Alberta (AP) - Although Drew Doughty has raised the Stanley Cup twice in his long career with the Los Angeles Kings, it's been five years since he skated in the playoffs.
The star defenseman and his Kings are both ready to get back on the NHL's biggest stage when they open their first-round playoff series against the powerhouse Edmonton Oilers on Monday night.
"I'm just so excited to play in the playoffs again," said Doughty, who has 51 points in 84 career postseason games. "They beat us last year, so we want to try and get them back. I'm super excited and just can't wait."
Because of a wrist injury, Doughty had to watch from the press box last season while the Oilers and Connor McDavid spoiled Los Angeles' return to the postseason after a three-year absence. Edmonton then advanced to the Western Conference finals in McDavid's long-awaited postseason breakthrough.
The Kings haven't won a playoff round since their second Stanley Cup championship run in 2014.
PREVIOUS COVERAGE: LA Kings lock up playoff spot for 2nd straight season
"It was like watching your kid play in a game, basically," Doughty said of his experience during last season's first-round matchup. "I was worried anyone was going to make a mistake. I was super-intense in the game. I'd be yelling up top (that) they should have a penalty or something like that. If we scored, (I was) jumping up and down."
Both teams are back for the rematch with the same playoff seeds after earning exactly five more points apiece in the regular season. Their series last year was razor-thin, with the Oilers rallying from a 3-2 series deficit to win Game 6 in Los Angeles before capturing it in Edmonton.
The rosters for both teams have changed slightly, but the central matchup remains: Los Angeles' defensemen, led by Doughty, must try mightily to slow down McDavid, the five-time NHL scoring champion.
"I'm excited for that opportunity," Doughty said. "I love playing against him. It's super difficult, but you've got to be on your toes at all moments. I'm starting to learn his game a little more from watching and playing against him, and I'm sure he's learning me, too. So it's going to be an absolute battle out there. But if we do our jobs the way we know we can, I think we'll be a big factor into whether or not we win this series."
GUSHING OIL
The Oilers are in spectacular form heading into the postseason, winning nine consecutive games and 14 of their final 15 during an 18-2-1 rampage since February. Edmonton is drawing more confidence from its two series victories last postseason than its current winning streak, however.
"Both teams are a little bit different, but we found ourselves down 3-2 in that series going into LA," Oilers forward Evander Kane said. "So we understand the mental grind. We went through that last year, and hopefully it's something that can help us this time around."
INJURED KINGS
Los Angeles scored 41 more goals this season than last season in large part because of the addition of Kevin Fiala, the elite scorer this team lacked. Fiala scored 72 points, but the Swiss star won't play in Game 1 because of a lower-body injury that kept him out of the final six games.
Gabriel Vilardi is also out for Game 1 with an upper-body injury that has sidelined him for the last nine games, but defenseman Alexander Edler could return after missing the past five games.
MCDOMINANT
McDavid scored 153 points and won the Richard Trophy with 64 goals. He is playing better than ever, yet he also seems to have the best team of his career around him, making the Kings' defensive challenges even tougher.
Captain Anze Kopitar knows what has to be done, but he also knows it's very difficult.
"Not give him too much time and space, obviously," Kopitar said. "Make sure he doesn't handle the puck too much, which is pretty hard to do. Just making sure you're in the right spots on the ice so he doesn't burn you with his speed and whatnot. But, yeah, it's usually not just one guy's job. It's a joint effort."
SUPERPOWER
McDavid's spectacular season was aided by the best power play in NHL history by success percentage (32.4%). Edmonton led the NHL with 325 goals and scored 89 of them with the man advantage — a whopping 32 by Leon Draisaitl, and 21 more by McDavid.
The Kings had the worst penalty kill among the 16 NHL playoff teams, stopping just 75.8% of their opponents' attempts.
NEW NETMINDERS
The Kings surprisingly dumped two-time Stanley Cup-winning goalie Jonathan Quick at the trade deadline and turned over their crease to Pheonix Copley and newcomer Joonas Korpisalo. The 31-year-old Copley has never appeared in the Stanley Cup playoffs, while Korpisalo participated just once in his first seven NHL seasons in Columbus.