Clippers' Russell Westbrook reveals where he stands with ex-teammate Kevin Durant
LOS ANGELES - This year's NBA postseason will be filled with plenty of storylines. One matchup that is sure to draw interest is Sunday's contest between the Los Angeles Clippers and Phoenix Suns.
The game will feature former teammates Kevin Durant and Russell Westbrook facing one another in the playoffs for the first time.
Durant and Westbrook's history dates back to 2008, when they first teamed up in Oklahoma City. They would eventually spend eight seasons together with the Thunder and advanced to the NBA Finals in 2012.
Ahead of their on-the-court reunion, Westbrook made it clear that there are no issues between him and Durant.
"It will be normal for me," Westbrook said about what it will be like to face his former Thunder teammate. "I think people still think like there's some beef or something. There's no beef of any [kind], so I think that's the good narrative for media, for people to talk about."
"But there's no beef. I got nothing but respect for him and things he's done with his career and having to see him back from injury. There's no beef at all. But he knows I'm going to compete, and I know he's going to compete, and that's all it is."
In 2016, Durant decided to leave the Thunder in favor of the Golden State Warriors. In 2019, the Thunder traded Westbrook to the Houston Rockets, where he joined forces with James Harden.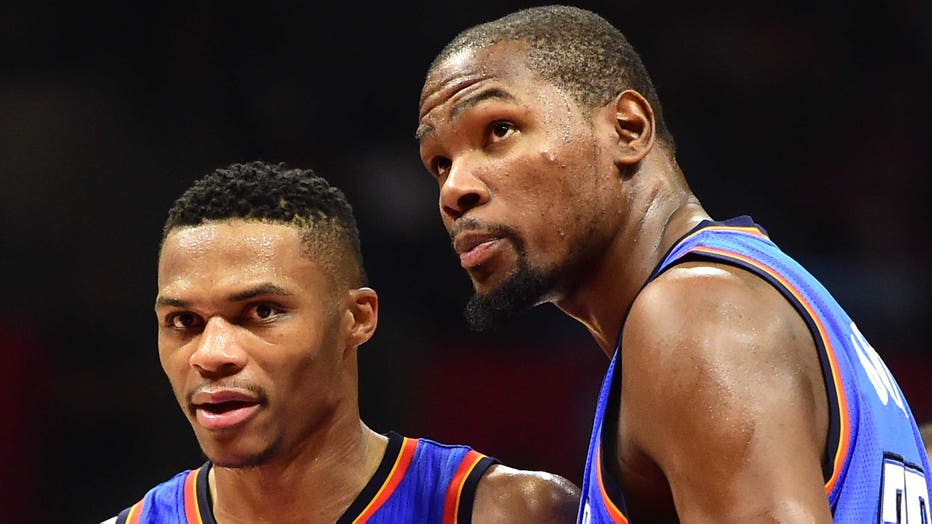 LOS ANGELES, CA - DECEMBER 21: Russell Westbrook #0 of the Oklahoma City Thunder and Kevin Durant #35 discuss play during the first half against the Los Angeles ClipperLos Angeles Kingsat Staples Center on December 21, 2015 in Los Angeles, California (Photo by Harry How/Getty Images)
Westbrook and Durant have gone against each other on the court 11 times since their split. Westbrook's teams hold a 6-5 advantage over Durant's teams in the regular-season matchups.
The Clippers have benefited from signing Westbrook in the middle of the season and will need him on the court this weekend as they face the challenge of slowing down Durant, Devin Booker, Chris Paul and Deandre Ayton.
Westbrook appears to be excited about being on a team that is competing in the postseason. Last season, Westbrook missed the playoffs when he was with the Los Angeles Lakers.
"Just his ability – he's always been very efficient," Westbrook said of Durant. "But I think his ability to be more efficient and still score the ball at a high rate. ... He's probably one of the best scorers I've seen, just can score at ease and look so effortlessly."
"I think over the years, he's figured out ways to score the basketball at a very, very high rate, and that's kind of what I've seen over the years."