Chargers draft TCU wide receiver Quentin Johnston in 1st round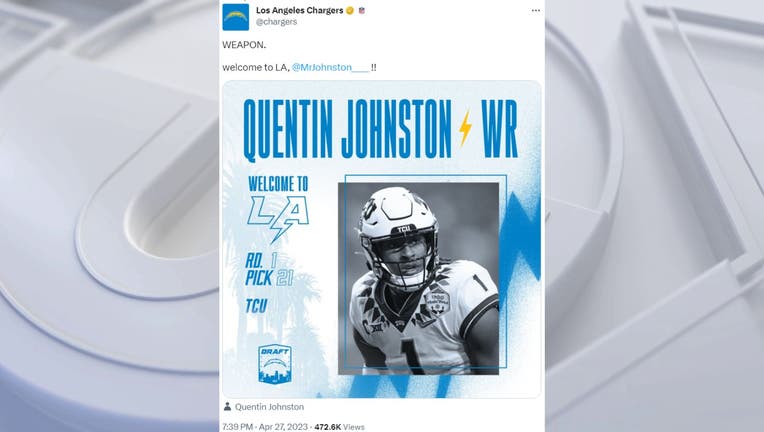 article
LOS ANGELES (AP) - Quentin Johnston's three years of putting up big plays at TCU made him one of the top wide receiver prospects in this year's NFL draft. It was his combine interview with the Los Angeles Chargers that made him the 21st overall pick Thursday night.
"I think there's some times when a guy leaves a 15-minute interview and you look at each other (in the room) and say, 'Yeah, that's one of us.' And that's how we felt," coach Brandon Staley said.
Johnston provides another weapon for quarterback Justin Herbert as the Bolts look to make the playoffs for the second straight season.
Johnston led the Horned Frogs in receiving the last three years. He had 60 receptions for 1,069 yards and eight touchdowns last season as TCU went from unranked at the beginning of the season to the national title game, which it lost to Georgia.
"They told me that I impressed them in the first interview that they had with me at the combine. After watching the film, they said that they were sold," Johnston said.
Staley's interest in Johnston started before the combine. Staley said he watched almost all of the Fiesta Bowl, when Johnston had six catches for 163 yards, including a 76-yard touchdown as the Horned Frogs beat Michigan in a College Football Playoff semifinal. Johnston was named the offensive MVP of that game.
Staley also referenced Johnston's performance in the Big 12 championship game, when he had four receptions for 139 yards.
Over his three seasons at TCU, Johnston had 115 catches for 2,190 yards and 14 touchdowns along with nine 100-yard games. He averaged 22.1 yards per catch in 2020, the highest by a true freshman in Big 12 history among players with at least 20 receptions.
The 6-foot-3, 208-pound Johnston joins a talented Chargers receiving room that already has Keenan Allen, Mike Williams and Joshua Palmer. General manager Tom Telesco and Staley were looking for someone who can stretch the field or generate mismatches for explosive pass plays.
Los Angeles also needs to build depth at the position since Allen is going into his 11th season and missed seven of the first nine games last season with a hamstring injury. Williams was sidelined for five games.
"To walk in a room with Mike Williams and Keenan Allen, you can't get much better than that. He is still really young and has a lot of learning to do. He has some physical characteristics he can add to our offense," Telesco said.
Johnston also averaged 8.9 yards after the catch, which is one area where the Chargers have been lacking in recent seasons.
"I'm really comfortable with everything, but the things that I have had the most success at would be curls, slants, in-routes and posts — a lot of in-cutting routes," he said. "Being a taller receiver that is able to create real separation at the line, as well at the top of the route. Then, what I can do with the ball in my hands is something that, I feel like, it's a no-brainer for somebody to pick me."
The Chargers selected Johnston over Zay Flowers (Boston College) and Jordan Addison (Southern California). Ohio State's Jaxon Smith-Njigba was the first wide receiver to be selected, going to Seattle with the 20th pick, which started a run of four straight receivers being picked, including Johnston.
Johnston projects as an outside receiver, which might make it difficult for him to start right away ahead of Allen and Williams. But Staley isn't ready to say what Johnston can or can't do.
"He comes into a wide receiver room as good as any in the league. All Quentin needs to do is come in and be himself," Staley said.