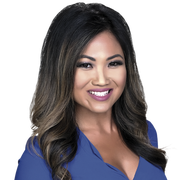 Soumada Khan
Traffic and Weather Reporter
Soumada Khan provides traffic and weather reports for Good Day LA weekday mornings. Soumada's incredible dedication to covering Southern California, whether behind the scenes or in front of the camera, have included breaking news, crime, fires, and floods. She's seen it all in one way or another and from different perspectives, as an Assignment Editor, Field Producer, Weather/Traffic Producer, Anchor, Reporter and Meteorologist. Soumada is a graduate of University of Irvine with a degree in Political Science, as well as completing her studies and specializing in Meteorology at Mississippi State University.
Born in a refugee camp in Thailand, Soumada came to the States at a year old, and spent her early childhood years in Denver, Colorado. She eventually came to sunny Southern California with her family for the warm beautiful weather at a young age of 9-yrs-old. SoCal, since has been her forever home.

Charities involving children are closest to Soumada's heart, like donating to CHOC Children's and Children's Hospital of Los Angeles is so important to her.