West L.A. dog immobile after wheel cart is stolen from foster family's car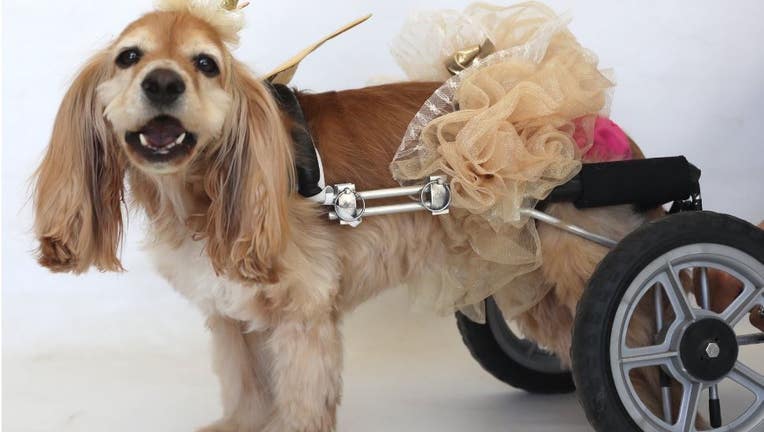 LOS ANGELES - A Cocker Spaniel named "Violet" who suffers from spinal cord damage is immobile after her custom-made wheel cart was stolen from her foster family's home. 
Earlier this week, "Violet" and her foster mother were doing their usual morning routine before work. When they went to their apartment's parking structure, they discovered both the foster mother's and father's vehicles were stolen, a friend told FOX 11. 
According to the family's friend, Violet's wheel cart, which gives her the ability to move around, was inside the car when it was stolen. The vehicle also contained Violet's special booties used to protect her paws from injury, her elevated car seat, a backpack that her foster mother uses to carry Violet while hiking, along with numerous personal items. 
The foster family contacted police who were able to locate the stolen vehicle. Unfortunately, the vehicle was completely emptied out. 
Now, the family is hoping someone will come forward with the wheel cart. 
Violet was rescued by the nonprofit 501(c)(3) group Camp Cocker from Baldwin Park Shelter nearly three years ago. Violet was unable to walk and was diagnosed with spinal cord damage shortly after she was rescued. 
The volunteer-based animal rescue group relies on donations and community support for survival. Camp Cocker also created the "Forever Foster Program," which works to pair dogs who are unlikely to be adopted due to age or injury with foster families who house animals to live out the rest of their lives in a loving environment.