Voice of Bart Simpson Nancy Cartwright speaks about passion project 'Know More About Drugs Alliance'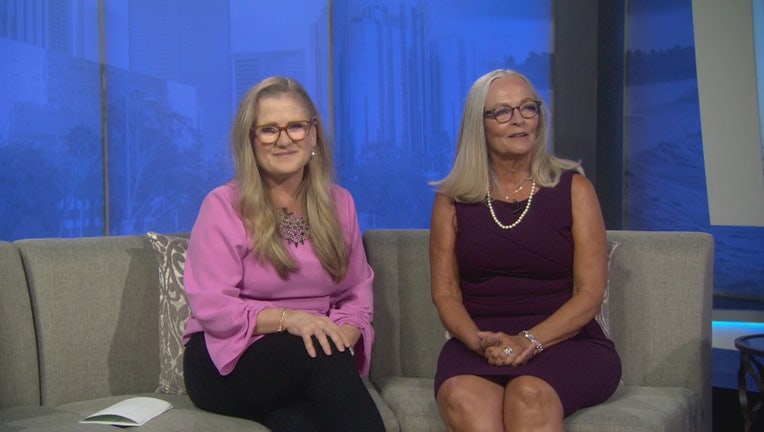 LOS ANGELES - Nancy Cartwright is familiar to generations of TV audiences as the voice of Bart Simpson. But one thing you may not know about Nancy is that she is passionate about painting and parental rights.
Nancy is here with advocate Mathy Downing because together, they have created the 'Know More About Drugs Alliance',  and using Nancy's paintings to raise awareness about the potential dangers of opioids and other prescription drugs.
Nancy Cartwright, Emmy Award-winning voice-over actress best known as the voice of Bart Simpson, has joined forces with concerned parents and consumer advocates to form the KNOW MORE ABOUT DRUGS ALLIANCE. The sole purpose of the Alliance is to educate parents on the existence of the FDA Medication Guides (MedGuides), in order to make informed decisions when it comes to these drugs and their children.
The MedGuide information is extremely relevant given a 2018 Centers for Disease Control and Prevention (CDC) report which found a full two-thirds of the top 15 drugs attributed to overdose deaths were legally prescribed psychotropics and opioids, many of which are being prescribed to children.
Know More About Drugs has launched a four-week outdoor billboard campaign in Los Angeles featuring Cartwright's poignant artwork. The paintings depict some of the salient risks of psychotropic drugs and prescription opioids that the FDA MedGuides warn about for children and teens, such as the fact that prescription opioids put anyone "at risk for overdose and death"; that antidepressants can cause suicidal thinking and action in a percentage of children; and, that many psychotropic stimulants (ADHD drugs) "are federally controlled substances that can lead to dependence"—meaning the U.S. DEA classifies such psychotropics as having the same "abuse potential with severe psychological or physical dependence liability" as prescribed opioids such as OxyContin.
The campaign also stresses the profound social issue that parents are not always informed of the risks and dangers of these drugs before being dispensed to their children.
The MedGuides are simple, non-technical and easy-to-read online fact sheets about prescription drug side effects, and despite the fact that the FDA website states, "The Food and Drug Administration wants you to know the importance of reading Medication Guides," the vast majority of parents and consumers have never heard of them and don't know they exist.  The nearly three hundred billboards, bus shelters and bus boards refer parents to KnowMoreAboutDrugs.com—a new website designed by the alliance to raise awareness of the MedGuides, which clearly delineate the most harmful and egregious side effects a child, teen or young adult can experience from taking any particular psychotropic drug or prescription opioid. This gives crucial information any parent needs to have an educated conversation with their doctor before administering these drugs to their children.
Cartwright became inspired to do all she can to inform parents after personally meeting Mathy Downing, a mother whose 12-year-old child, Candace, hanged herself several months after she began taking an antidepressant. Downing was unaware of the FDA MedGuides which explicitly state that this antidepressant can cause suicidal thoughts and actions in children and young adults. Candace had no history of depression nor anxiety, save for the fact she got very nervous while taking tests at school. Her parents were never informed by her doctor of the dangers of the drug, and were only reassured of its safety and efficacy.
For more information, visit: KnowMoreAboutDrugs.com
The return of FOX's THE SIMPSONS for season 31, begins Sunday, Sept. 29, on (8:00-8:30 PM ET/PT).
FOX 11 Producer Anthony Smiljkovich contributed to this story.