VIDEO: Stockton PD scuffles with teen during arrest at bus stop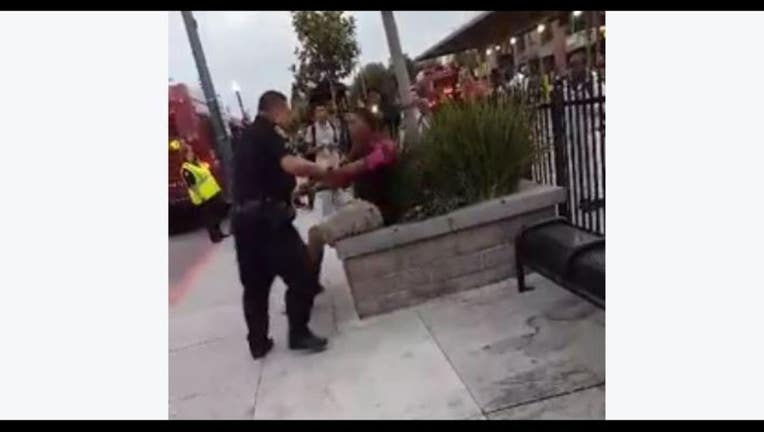 article
STOCKTON, Calif. (FOX 11) - WARNING: THIS VIDEO HAS GRAPHIC LANGUAGE A cell-phone video out of Stockton, CA is going viral. It shows a police officer striking a teen as onlookers yell, "he's just a kid!" The video was posted to Facebook and YouTube Thursday morning.
In the video, we see a young African-American male teen seemingly resisting a Stockton police officer's efforts to detain him. The teen covers his face and rolls backwards onto a plant stand as the police officer yells at him to get down onto the concrete sidewalk. At one point, both the teen and the officer struggle while both holding onto the officers baton.
A confrontation then ensued in front of a screaming crowd. After a few minutes, numerous other officers arrive to force the teen onto the sidewalk for an arrest.
According to Edgar Avendaño's cell-phone video and statement posts on Facebook and YouTube, the teen was initially stopped by the officer for jaywalking as he was trying to board a city bus.
FOX 11 News spoke with the Stockton Police Department who told us that the officer's initial contact with the 16-year-old, which began at 6:52 AM was due to the minor walking in the Bus Only lane. The officer ordered the teen out of the lane for safety reasons and, according to Joe Silva- Stockton Police Department's Public Information Office, the teen failed to comply and was rattling off obscenities at the officer, which is when he went in to legally detain the teen.
That's where the video picks up and we see the officer and teen struggling in the planter on Avendaño's video. At that point, we also see the officer's body camera fall to the ground. Silva went on to explain that, as we see in the video, the teen grabs for the officer's baton, at which point the officer employs a "weapons retention technique" to regain control of the baton.
You can see the rest of the altercation in the video.
According to Stockton PD, the officer involved in the initial incident is automatically placed under administrative review so the department can make sure that proper procedure was followed. A preliminary investigation is currently under way.
The 16-year-old in the video was arrested and cited for trespassing in the bus lane, and resisting arrest. He was later released into the custody of his mother.
Copyright 2015 FOX 11 Los Angeles : Download our mobile app for breaking news alerts or to watch FOX 11 News | Follow us on Facebook , Twitter and YouTube .