VIDEO: Rapper Blueface faces backlash after throwing bags of cash to homeless on Skid Row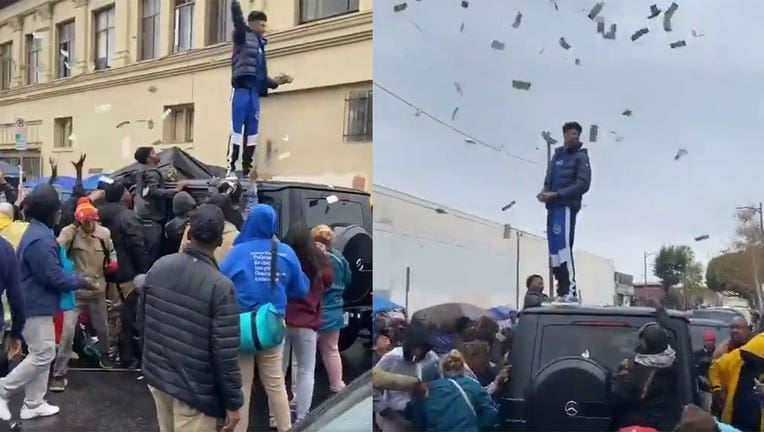 article
LOS ANGELES - Rapper Blueface was recorded on Monday standing on top of an SUV while throwing wads of cash to those less fortunate in the heart of L.A.'s Skid Row.
Video of the incident posted on Twitter showed the rapper with a bag filled with stacks of money but instead of handing it to people one by one, Blueface tosses it up in the air, sending those below scrambling to grab as much as they can as it fell onto the ground.
His actions received mixed reviews from the public on social media. Some saw it as an act of giving back, while others found it to be demeaning and dehumanizing. 
"I applaud the effort but not the method!!!" said Twitter user Chris Frierson. "The method ruins any good intention he had," added Lucas Rice.
"This is so gross, degrading and humiliating. This isn't giving back, it is treating human beings in need like animals," activist Nicholas Ferroni wrote on Twitter. "Give out gifts, turkeys, gift cards and clothing. Hand it out, talk to people, console them— don't throw money like scraps as if they are savages."
Blueface, whose real name is Johnathan Porter, is best known for his No. 8 Billboard chart hit "Thotiana." The Los Angeles area native first gained fame in 2018 after going viral with his song "Respect My Crypn."
FOX 11's Phil Shuman contributed.