VIDEO: Black Lives Matter protesters say husband of DA Jackie Lacey pointed gun at them
GRANADA HILLS, Calif. - STORY UPDATE: Tensions rise after husband of LA DA Jackie Lacey pulls gun on Black Lives Matter protesters
Some Black Lives Matter protesters say that the husband of Los Angeles District Attorney Jackie Lacey pointed a gun at them Monday morning.
The Los Angeles Police Department said they received a call regarding a disturbance at Lacey's Granada Hills home around 5:40 a.m. Upon arrival, officers encountered a group of roughly 20 protesters in front of Lacey's home. The protesters were calling for her resignation.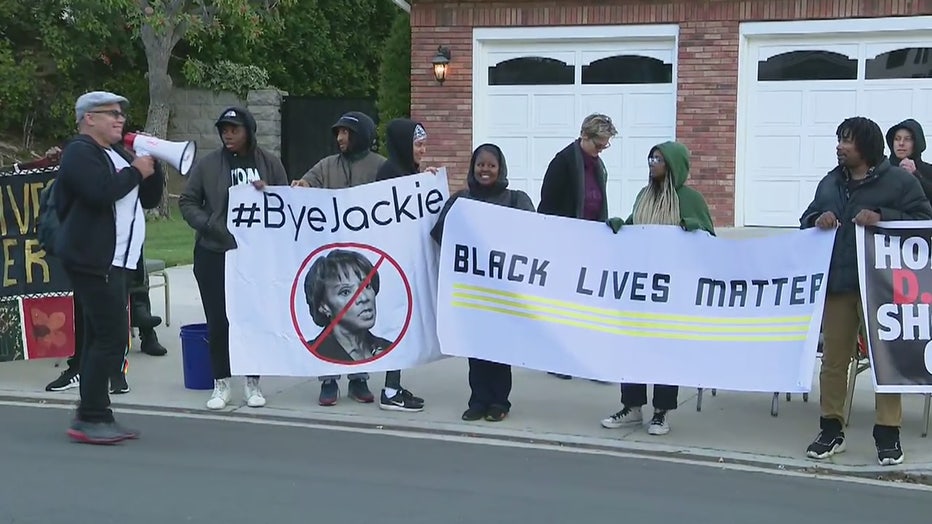 Multiple law enforcement officers remained on scene to help maintain peace. The protesters dispersed just before 8 a.m. LAPD said that no arrests were made, but the investigation is ongoing.
Melina Abdullah, a professor of Pan-African Studies at California State University, posted video of the alleged incident on Twitter writing, "I'm front of DA Jackie Lacey's house for that community meeting she promised with the @BLMLA crew. Rang her bell to invite her. Her husband pulled a gun, cocked it, pointed it at my chest and said 'I'll shoot you. I don't care who you are.'"
FOX 11 reached out to Lacey's office for comment, at which point they referred us to her public relations contact. We're still waiting for an official statement.
Lacey, the first female and African American district attorney in Los Angeles, was elected eight years ago with strong backing from communities of color. She is currently in a tight race for reelection and as the primary approaches, tensions between her office and Black Lives Matter protesters are intensifying.
Activists argue that more than 500 people have been killed by law enforcement under Lacey's administration. Lacey has declined to charge almost all officers accused of fatal shootings. 
Patrisse Cullors, a co-founder of the Black Lives Matter movement, described the election as "the single most important DA race in the country."