USNS Mercy hospital ship departs Los Angeles and heads home to San Diego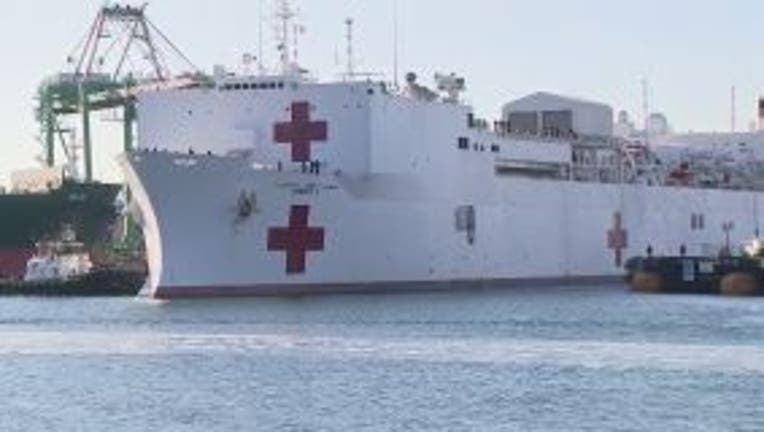 LOS ANGELES - The Navy hospital ship Mercy departed the Port of Los Angeles Friday to return to its home port in San Diego, according to the Governor's Office of Emergency Services.
Officials with Cal OES say medical personnel from the ship will remain in Los Angeles to support the state's response requirements. 
According to a release, four 5-member medical support teams will be needed within the region for critical needs including skilled nursing facilities.  And forty medical staffers will stay at the state operated alternative care site at Fairview Developmental Center in Costa Mesa. 
"Our work to protect public health and safety is far from done but having the Mercy and its highly-trained medical personnel stationed in the most populous region of the state was critical to our ability to respond in the first stages of the pandemic. We thank our colleagues in the U.S. Navy, FEMA and the federal administration for their support in allowing us to use the Mercy," said Cal OES Director Mark Ghilarducci.   
RELATED: USNS Mercy hospital ship arrives at Port of Los Angeles to bring relief to overwhelmed area hospitals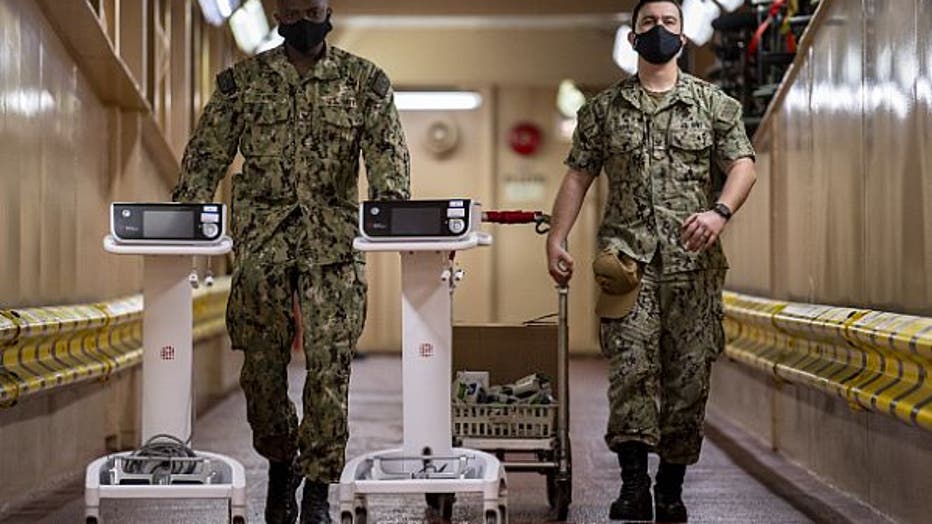 Hospital Corpsman 1st Class Torrean Clarke, from Neptune City, N.J., and Hospital Corpsman 3rd Class Brandon Chorny, from Homeland, Calif., transport medical equipment aboard the hospital ship USNS Mercy
The USNS Mercy sailed into the Port of Los Angeles in mid-March to provide relief for local hospitals that were overwhelmed by the coronavirus pandemic.
RELATED: USNS Mercy hospital ship crewmember tests positive for COVID-19
7 crew members aboard USNS Mercy hospital ship test positive for COVID-19
The Mercy does not treat people who test positive for COVID-19; it treats non-coronavirus patients to free up space at area hospitals. However, while in LA several of its crew members tested positive for COVID-19. It is still unclear how or when the crewmembers became infected.
Get breaking news alerts in the FOX 11 News app. Download for iOS or Android.