Two arrested, additional suspects sought in violent home invasion robberies across Inland Empire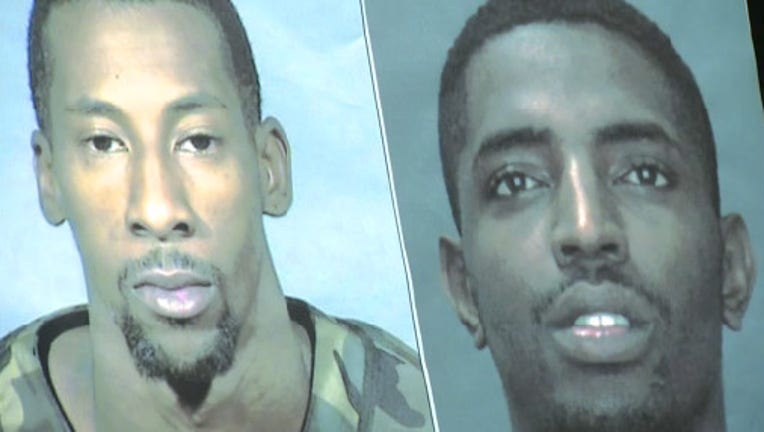 RANCHO CUCAMONGA, Calif. - Two men are in custody in connection with a string of home invasion robberies in the Inland Empire. Detectives with the Riverside County Sheriff's Office and the San Bernardino County Sheriff's Office are currently searching for two other suspects. 
You might not recognize it at first glance but this Rancho Cucamonga neighborhood has a unique distinction. Not one but two home invasion robberies have occurred within days of each other. 
Thanks to the family dog the Patels feel fairly safe, but they still stay vigilant.
"I don't leave my doors open at night, when sun goes down, we turn our lights on right away," said Rancho Cucamonga resident Dee Patel. 
The first home invasion robbery occurred on Di Carlo Place.
Related: Rancho Cucamonga family held at gunpoint during violent home invasion
"On the evening of October 3rd, we experienced the most horrifying night of our lives," said victim Mohd Hafez. 
Security video from Hafez' home caught the suspects in the act. 
The video shows three suspects drive up, creep along a wall before drawing guns to overtake the Hafez family who was enjoying the evening in their open garage.
"At the end of this terrifying ordeal, they gathered us all in the living room and pointed their weapons at the whole family and yelled 'maybe we should kill them all'", stated Hafez during a press conference Friday. 
Ten days later a second home invasion robbery occurred around the corner from the Hafez home. Law enforcement thought the two were related but detectives announced the two incidents are separate. 
However, officials say the same set of suspects who terrorized the Hafez family is suspected of home invasion robberies in San Jacinto and Yucca Valley.
Jeffrey Taylor Thompson, 28 of highland, was arrested and is suspected of being involved in at least three home invasions. Police are currently looking for two other suspects. 
 "They did go through extra effort to conceal their identities by covering their faces and things like that. That's why we want point out, these guys are extremely dangerous. The security cameras are not preventing them and they're going to do what they need to do to commit their crime," stated Det. Don Patton with the San Bernardino County Sheriff's Office. 
Officials also arrested 25-year-old Dennis Franks in connection with the second home invasion robbery that happened around the corner from the Hafez home. Detectives say the two home invasions in Rancho Cucamonga are not related. 
"At this point it was a copycat connection. We worked diligently with all the detectives up here trying to find a link between these two and we've been unable to do so," added Det. Patton. 
"They were able to escape with valuables, but the most important thing they stole from us is our sense of security."