Tuesday morning California store closures: Full list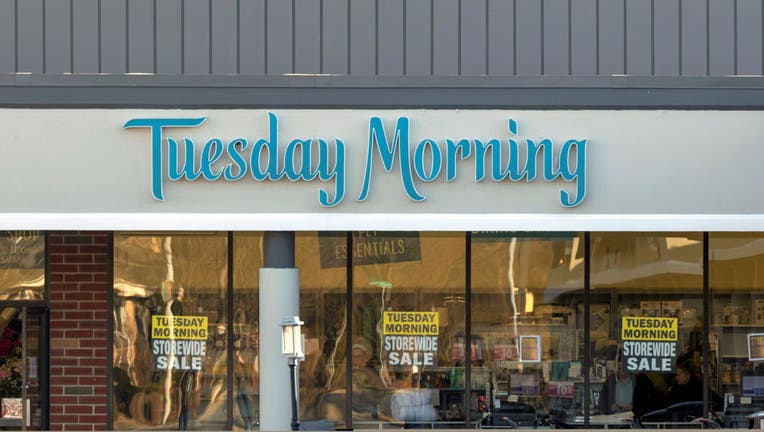 article
LOS ANGELES - Discount home goods retailer Tuesday Morning announced it is closing most of its stores in California and more than half of its locations across the U.S. after filing for Chapter 11 bankruptcy protection last week. 
In a statement, CEO Andrew Berger said the company is still facing an "exceedingly burdensome debt" and "needs to restructure and optimize its store footprint to retain a viable business." According to the company's website, 263 of Tuesday Morning's approximately 490 locations "in low-traffic regions" will close. In California, 31 out of 37 stores are permanently closing their doors.
It's the second time Tuesday Morning has filed for bankruptcy protection in the last three years. In 2020, the company closed more than 200 of its nearly 700 stores as it was hit hard by the pandemic.
Here's the full list of store closures in California:
Glendora
1000 E Rte 66
Glendora East Shopping Center
Glendora, CA 91740
Clovis
850 Herndon Ave
Trading Post 
Clovis, CA 93612
Rancho Cucamonga
11098 E Foothill Boulevard
Terra Vista Town Center
Rancho Cucamonga, CA 91730
Petaluma
1355 North McDowell Blvd
Redwood Gateway
Petaluma, CA 94954
Redlands 
9940 Alabama Street
Redlands Town Centre
Redlands, CA 92374
Redding
1635 Hilltop Drive
Hilltop - Redding Plaza
Redding, CA 96002
Riverside 
17126 Van Buren Blvd.
Woodcrest Plaza
Riverside, CA 92504
Fountain Valley
17120 Magnolia Street
Fountain Valley, CA 92708
San Diego
1772 Garnet Avenue
Pacific Plaza
San Diego, CA 92109
Granada Hills 
18040 Chatsworth Street
Granada Hills Town Center
Granada Hills, CA 91344
Carlsbad
1824 Marron Road
North Country Plaza
Carlsbad, CA 92008
Novato 
191 San Marin Drive
San Marin Plaza
Novato, CA 94945
Modesto 
3250 Dale Road
Vintage Faire
Modesto, CA 95356
La Verne 
2139 Foothill Boulevard
Village La Verne
La Verne, CA 91750
Woodland Hills 
22950 Victory Blvd
Pride Center
Woodland Hills, CA 91367
Torrance 
23855 Hawthorne Boulevard
Torrance, CA 90505
Camarillo
2450 Las Posas Road
Camarillo Village Square
Camarillo, CA 93010
Chico
2485 Notre Dame Boulevard
Skypark Plaza
Chico, CA 95928
San Diego 
3338 Governor Drive
UC Marketplace
San Diego, CA 92122
San Diego
4242 Camino Del Rio North
Valley Del Rio Shopping Center
San Diego, CA 92108
Palm Desert
44250 Town Center Way
Town Center Plaza
Palm Desert, CA 92260
Ventura 
4756 Telephone Road
Riviera Plaza
Ventura, CA 93003
San Jose
898 Blossom Hill Road
San Jose, CA 95123
Citrus Heights 
7255 Greenback Lane|
Regency Shopping Center
Citrus Heights, CA 95621
Lakewood
5432 Woodruff Avenue
Lakewood Marketplace
Lakewood, CA 90713
Bakersfield
2721 Calloway Ave.
Rosedale Village
Bakersfield, CA 93312
Roseville
5771 Five Star Blvd
Fairway Commons
Roseville, CA 95678
Folsom
685 East Bidwell Street
Folsom Faire
Folsom, CA 95630
Orange 
8520 East Chapman Avenue
Santiago Hills Marketplace
Orange, CA 92869
Santa Monica
901 Santa Monica Boulevard
Santa Monica, CA 90401
El Cajon
2983 Jamacha Rd
Rancho San Diego Towne Center
El Cajon, CA 92019
For a complete list of U.S. store closures, tap or click here.