Trump set to appear in DC court for historic arraignment Thursday: Here's what to expect
WASHINGTON - Former President Donald Trump is expected to appear in a Washington, D.C. courtroom Thursday after he was indicted on federal charges in connection to the Jan. 6 attack at the U.S. Capitol carried out by his supporters and his efforts to subvert the 2020 presidential election results leading up to it.  
Law enforcement says they're prepared for any potential disturbances as Trump arrives for his historic arraignment, which is scheduled for 4 p.m., where he's expected to be fingerprinted and will provide pertinent information for processing. U.S. Marshals say this is not technically an arrest, it is only a summons for his appearance, so he will not have his picture taken for a mugshot. 
As with Trump's former appearances in courtrooms in Miami and New York, the arraignment could be fairly quick — perhaps about an hour.
The former president is facing four federal charges in what is now his third indictment: conspiracy to defraud the U.S., conspiracy to obstruct an official proceeding, obstruction of and attempt to obstruct an official proceeding and conspiracy against rights. 
The indictment relies heavily on the exhaustive findings from the House Select Committee on the January 6 Attack, which recommended that the Department of Justice seek criminal charges against Trump following its year-and-a-half-long probe into the events leading up to the violent insurrection.  
"The attack on our nation's Capitol on Jan. 6, 2021, was an unprecedented assault on the seat of American democracy," Special Counsel Jack Smith said Tuesday. "It was fueled by lies, lies by the defendant targeted at obstructing a bedrock function of the U.S. government: the nation's process of collecting, counting and certifying the results of the presidential election."
In the 45-page document, prosecutors detail Trump's months-long campaign to overturn the election through "pervasive and destabilizing lies." They allege that he continued to make knowingly false statements, targeting legislators and elected officials in states where President Joe Biden won with "sham election fraud investigations."
READ THE FULL INDICTMENT HERE
One of those states is Georgia, where the former president faces another grand jury investigation into his alleged meddling in their election process. In that case, Trump is accused of pressuring Georgia Secretary of State Brad Raffensperger, asking him to "find 11,780 votes" — which would have been just enough to overtake Biden in the state — as well as using fake electors to try to swing the electoral votes his way.
Prosecutors also allege that Trump set up slates of fake electors in Arizona, Michigan, Nevada, New Mexico, Pennsylvania and Wisconsin. While Trump is the only person charged in the indictment, it alludes to several "co-conspirators."
Vice President Mike Pence is also noted as a central player in the indictment. It highlights contemporaneous notes on conversations Trump had with Pence in which he attempted to pressure the VP into obstructing the certification of the election, saying that he "had the authority to." Trump is also alleged to have told Pence that he was "too honest" for rejecting that claim. 
The indictment says that once it became clear that Pence would move forward to certify the election on Jan. 6, Trump exploited the violent disruption created by the "large and angry crowd — including many individuals whom the Defendant [Trump] had deceived into believing the Vice President could and might change the election results" to redouble his claims of election fraud and continued to disseminate that message to his supporters.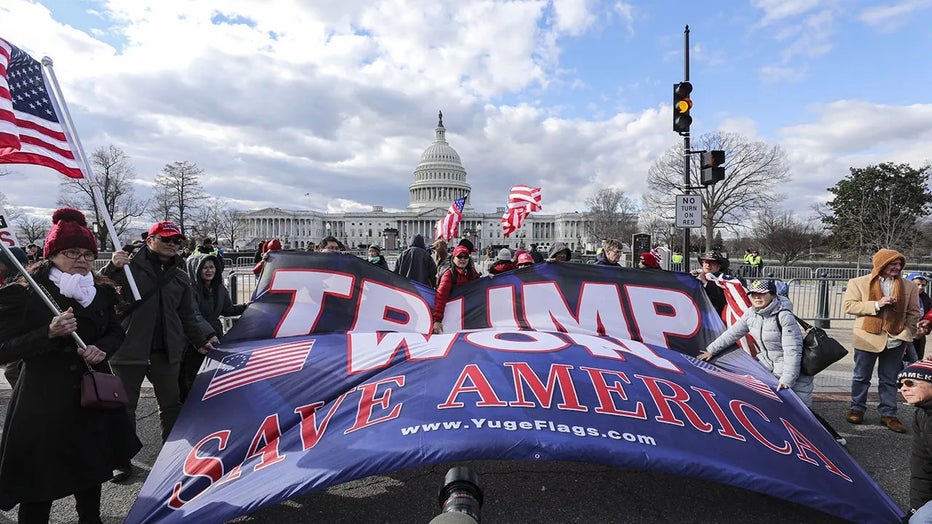 Three men were arrested on charges alleging they clashed with police officers during the Jan. 6, 2021 Capitol riot. (Photo by Celal Gunes/Anadolu Agency via Getty Images)
The decision by the vice president to certify the election cleaved him from the former president's inner circle and made him a target for so-called "MAGA" Republicans. And Trump once again took aim at Pence Wednesday, saying in a post on his social media platform Truth Social that he feels "badly for Mike Pence, who is attracting no crowds, enthusiasm, or loyalty from people who, as a member of the Trump Administration, should be loving him." 
He also reiterated what the indictment calls "false claims" that Pence had the power to delay the certification and change the results of the election.
"He didn't fight against Election Fraud, which we will now be easily able to prove based on the most recent Fake Indictment," Trump wrote. "The V.P. had power that Mike didn't understand, but after the Election, the RINOS & Dems changed the law, taking that power away!" 
Pence, who is challenging Trump for the 2024 GOP nomination, responded to the news of the indictment in a tweet, saying, "Today's indictment serves as an important reminder: anyone who puts himself over the Constitution should never be President of the United States." 
Trump and many of his followers quickly dismissed the indictment as another politically motivated attack engineered by the Biden administration and its "weaponized" Department of Justice. His campaign released a full statement on Truth Social Tuesday questioning the timing of the new charges and even likened the "persecutions" by the federal government to "Nazi Germany in the 1930s."
The former president continues to deny the allegations against him, calling this latest legal battle another "witch hunt." It's expected that in his arraignment, he will go before a magistrate judge and presumably, will plead "not guilty." However, it is possible that other arrangements have been made in this unprecedented case. 
FOX 5 will keep you updated on this developing story. Check back for updates.