Trump audio: Former President suggests keeping Iran document he did not declassify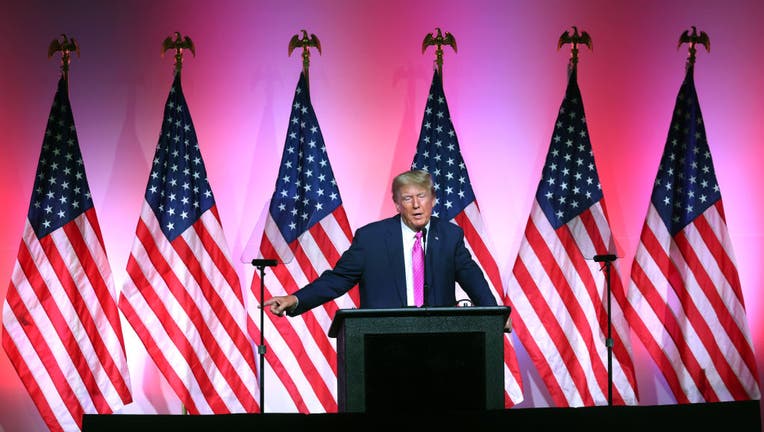 article
Leaked audio captured parts of a conversation involving Donald Trump in which the former president admitted to holding onto secret documents he did not declassify.
The audio tape, obtained by CNN, appears to show Trump bragging to a staffer about keeping a sensitive document on military actions in Iran. CNN reported the conversation took place in 2021 in New Jersey, which means Trump had been out of the White House and was no longer President.
"Well, with [Chairman of the Joint Chiefs of Staff General Mark A. Milley]. Let me see that. I'll show you an example. He said that I wanted to attack Iran," Trump was heard in the leaked audio.
The remark comes as a response to a Trump staffer suggesting the nation had plans to attack Iran.
PREVIOUS COVERAGE: 
"Like when [Gen. Milley] is talking about, 'Oh, you were going to try to do a coup.' No, they were trying to do that before you were even sworn in," said a staffer in the tape. "Trying to overthrow your election."
Trump then appears to brag about the "big pile of papers" that were all "off the record" and had information from the U.S. Defense Department.
"Isn't that amazing? This totally wins my case, you know? Except it is, like, highly confidential. This is secret information," the former President's voice appears to say in the leaked audio.
The leaked exchange may completely contradict Trump's claims last week when he told FOX News' Bret Baier that he didn't have a document related to the nation's plan to attack Iran. In the FOX News interview that aired on June 19, Trump said he showed people copies of newspaper and magazine articles.
The former President also appeared to brag about not declassifying the Iran document.
"I was just thinking because we were talking about it. And you know, he said 'He wanted to attack Iran, and what…' These are the papers," Trump said in the leaked audio.
"I don't know, we'll have to see. Yeah, we'll have to try to–…" the staffer said before Trump interrupted her in the leaked audio.
"Declassify it. See, as President I could have declassified it," Trump appeared to say on the tape. "This was done by the military and given to me. Uh, I think we can probably, right?"
Trump and a staffer then went on to make jokes about Hillary Clinton and her email scandal.
"Hillary would print that out all the time, you know," a staffer was heard in the tape.
"She'd send it… no, she'd send it to Anthony Weiner. The pervert," Trump responded.
The news of the leaked audio comes nearly two weeks after Trump pleaded not guilty to dozens of federal charges that he illegally kept classified documents. Prior to this scandal, no former president had been accused of mishandling top-secret information.
PREVIOUS COVERAGE: Trump pleads not guilty to federal charges that he illegally kept classified documents