TikTok banana-dancing influencer cheers up New York during severe flooding: 'This made my day'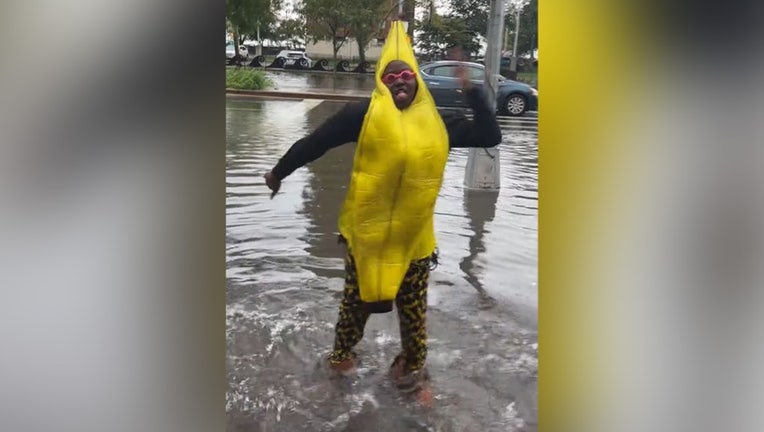 article
NEW YORK - Rain walloped the New York metropolitan area with a startling punch Friday, knocking out several subway and commuter rail lines, stranding drivers on highways, flooding basements, and shuttering a terminal at LaGuardia Airport in one of the city's wettest days in decades.
But that didn't stop one social media influencer from dancing in the rain, in a banana costume. 
TikTok user Mekhiah, with the handle Brentfaiyazbootyhole posted several videos which have amassed millions of views on TikTok of them doing a series of dance moves in a banana costume. 
One video which accumulated nearly 2 million views and nearly 500,000 likes as of Sept. 29, 10:25 p.m. local time, shows Mekhiah doing the Milly Rock, a popular dance, while nearly knee deep in water. 
"LMFAOAOA I love living in New York," wrote one user, in response to the viral video. 
"I SAW THIS BEING FILMED," wrote another New Yorker. 
The video was a light hearted moment in an otherwise dramatic day for New York residents who were inundated with Almost 7 inches (18 centimeters) of rain had fallen in parts of Brooklyn by midday, with at least one spot seeing 2.5 inches (6 centimeters) in a single hour, according to weather and city officials. 
The nearly 8 inches (20 centimeters) at John F. Kennedy Airport surpassed a record set during Hurricane Donna in September 1960, the National Weather Service said.
Mekhiah, who filmed the video in Coney Island said "I enjoy making people laugh and smile. I really just made the video for my friends to laugh and I didn't think it would go viral." 
With more downpours to be expected throughout the day, it was clear that everyone needed a break from the rainfall. 
"THIS MADE MY DAY," wrote one user. 
While Mekhiah seemed to be handling the rainfall well, others were struggling to cope. 
In a separate viral video, a person could be seen swimming in the East River alongside a person in a kayak as floodwaters rose. 
In another video posted to Twitter, a person could be seen submerging themselves in a subway station. 
"People are swimming in the subway in New York City. Oh what's happening here," wrote one user on Twitter. 
After Eric Adams issued a state of emergency for NYC Friday afternoon, it quickly became apparent that New Yorkers were going to handle the weather in whatever way the felt best. Whether it be swimming in the East River, or doing the Milly Rock in a banana costume. 
FOX 5 NY CONTRIBUTED TO THIS STORY.