Tiger reported missing from Georgia animal safari after possible tornado rips through region
PINE MOUNTAIN, Ga. - The Troup County Sheriff's Office in Georgia said it's investigating reports that a tiger is unaccounted for inside the Wild Animal Safari in Pine Mountain after a possible tornado ripped through the region early Sunday morning.
Severe weather was reported across the South on Sunday morning, and the National Weather Service issued a Tornado Warning for Pine Mountain just before 7 a.m. EDT as the storms moved over the area.
"We are receiving multiple reports of trees down, damage on houses and power lines down," the Troup County Sheriff's Office said on Facebook. "If you do not have to get on the roads this morning, please do not travel."
About an hour after the severe thunderstorms moved through, the sheriff's office said it received a report from the Pine Mountain Animal Safari that at least one tiger was reported missing.
Park officials announced on Sunday morning that the park would be closed after the damage was reported.
"We are working diligently to keep our team and animals safe and will update with more news as it is available," the park said on Facebook.
More severe weather expected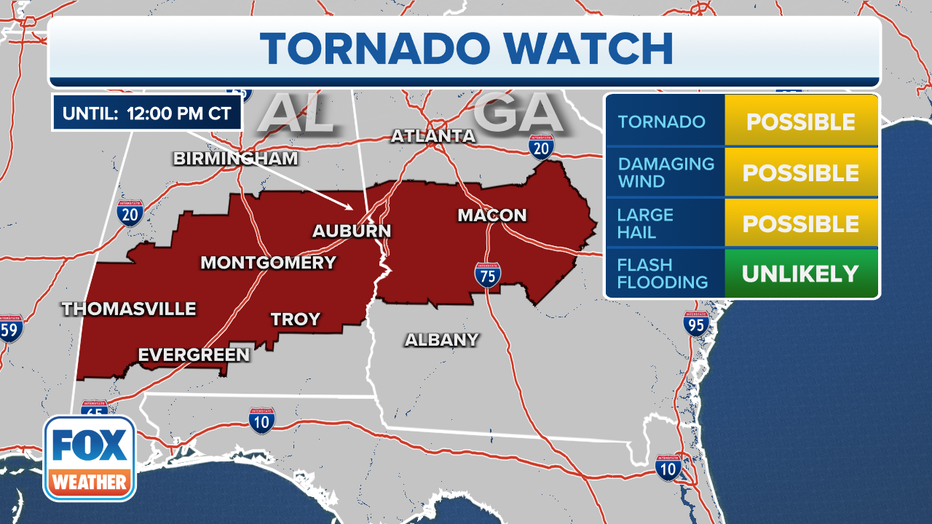 A Tornado Watch is in effect for parts of the Southeast.(FOX Weather)
Severe storms are expected in parts of the South for the fourth straight day as the threat of tornadoes, damaging winds and large hail continues Sunday across some of the same areas still recovering from Friday night's deadly tornadoes.
NOAA's Storm Prediction Center has issued a Tornado Watch for parts of central and southern Alabama and Middle Georgia until 1 p.m. EDT. This includes Montgomery in Alabama and Columbus and Macon in Georgia.
According to the FOX Forecast Center, a few EF-2 or stronger tornadoes and very large hail could accompany the most intense storms, particularly from central Louisiana across central and southern portions of Mississippi and Alabama.