Thousands turn out for All Black Lives Matter anti-racism solidarity march in Hollywood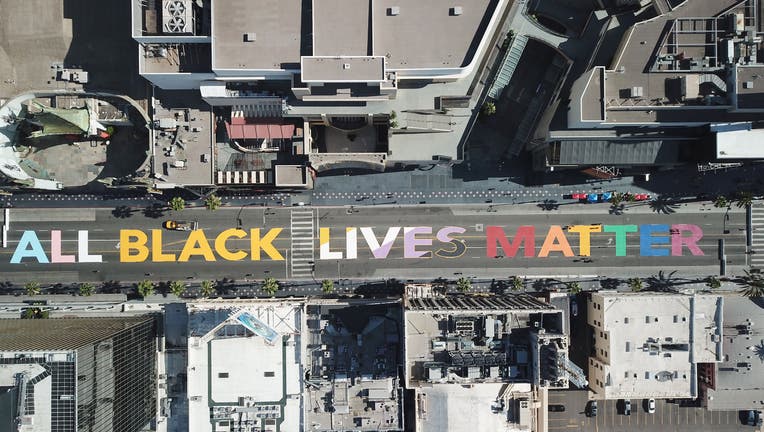 article
HOLLYWOOD, Calif. - Several thousand people turned out Sunday for an anti-racism solidarity march from Hollywood to West Hollywood, a city that was originally set to host the LA Pride Parade on this day before it was canceled due to the coronavirus.
It was a behemoth of a march, thousands and thousands of people marching from Hollywood and Vine to Santa Monica and San Vicente. 
The march was organized by the All Black Lives Matter Advisory Board, which posted on its website the protest was "in direct response to racial injustice, systematic racism and all forms of oppression."
RELATED: Stay up to date on all coronavirus-related information
The group of African American LGBTQ+ organizations united what would have been the huge presence of people from COVID-19 postponed the Gay Pride celebration, with the impetus of recent BLM protests, putting together an event that seemed to satisfy initial concerns that Pride organizers might not include the BLM message fairly.
As of 12:30 p.m., the crowd had swelled on Hollywood Boulevard, which was painted with large all-capital letters spelling out ALL BLACK LIVES MATTER. The popular tourist thoroughfare was closed to vehicle traffic from Highland Avenue to La Brea Avenue.
RELATED: Continuing coverage of the death of George Floyd
As it was, a portrait of George Floyd, the African-American man killed by police in Minneapolis, flashed on a screen outside the Chinese Theatre, while chants echoed in the crowd: "Black Lives Matter" but also "LatinX for Black Lives" even "Black Trans lives matter".
The majority of marchers we encountered were wearing masks, but just the sheer size of the group, and the gatherings before, and after, made some wonder if perhaps the Gay Pride Festival shouldn't have been postponed. 
At the same time, many of the people marching were heterosexuals wanting to add their voices to a call for justice they now perceive as universal.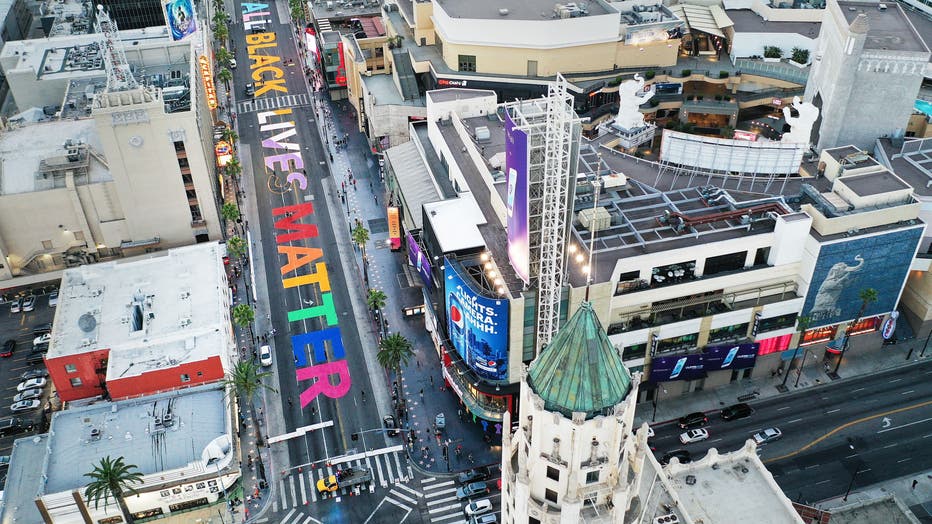 (Photo by Mario Tama/Getty Images)
Organizers of the 2020 LA Pride Parade, who canceled their event due to the coronavirus pandemic, said earlier this month they would hold a march in solidarity with Black Lives Matter and against police brutality and oppression.
But Christopher Street West, which organizes LA Pride, failed to reach out to BLM officials or Black LGBTQ community organizers before making that announcement.
Get breaking news alerts in the FOX 11 News app. Download for iOS or Android.
"They just kind of stepped forward too soon without checking with and getting the full endorsement and support from Black LGBTQ leaders ... and organizations,'' said ABLM organizer Brandon Anthony.
CSW admitted as much in a social media post Monday, saying the group
would withdraw from formal sponsorship of the anti-racism event, but stand in solidarity.
"We apologize to the Black Lives Matter organizers,'' LA Pride officials wrote in their post. "Conversations did continue and grew to later include leaders from Black Lives Matter LA, and subsequently, an Advisory Board of Black LGBTQ+ leaders has formed to lead the upcoming All Black Lives Matter solidarity march.''
According to a website for the march, ablm.la, the LA Pride organizers stepped back "out of recognition and respect to the years of work and action of Black LGBTQ+ leadership and community organizers,'' but would "stand unapologetically in solidarity with efforts to dismantle racial (in)justice, systemic oppression, institutional barriers, policy brutality and discrimination of all kinds.''
According to All Black Lives Matter, the march aims to "amplify Black
Queer voices'' and support Black Lives Matter demands to "prosecute killer cops'' and "defund the police and reinvest in the community.''