Theft ring targeting elderly at grocery stores, markets: LASD
WESTLAKE VILLAGE, Calif. - Authorities said an organized criminal ring from South America may be responsible for a recent string of thefts at grocery stores and retailers across Southern California. And these thefts recently hit close to home after the mother of FOX 11's Christina Pascucci was one of their victims.
Christel Pascucci was shopping at a Westlake Village Costco around 6 p.m. on Wednesday, March 15, when she said thieves lifted her wallet from her purse.
"I put my purse in the cart," said Christel Pascucci. "I looked at some cosmetics in the one aisle, and all of a sudden I was bumped. So I kind of turned around towards that and when I did I see somebody behind me run with their head down. They ran away. They were so fast."
Investigators said the pair then went straight to a nearby Target, which is seconds away by car. After a drive that took roughly 30 seconds, they were captured once again on surveillance walking into the Target store off Russel Ranch Road minutes later, immediately grabbing gift cards and trying to charge $1,000 to Christel Pascucci's stolen credit cards four separate times. 
The cards were declined, and the criminals walked out empty-handed.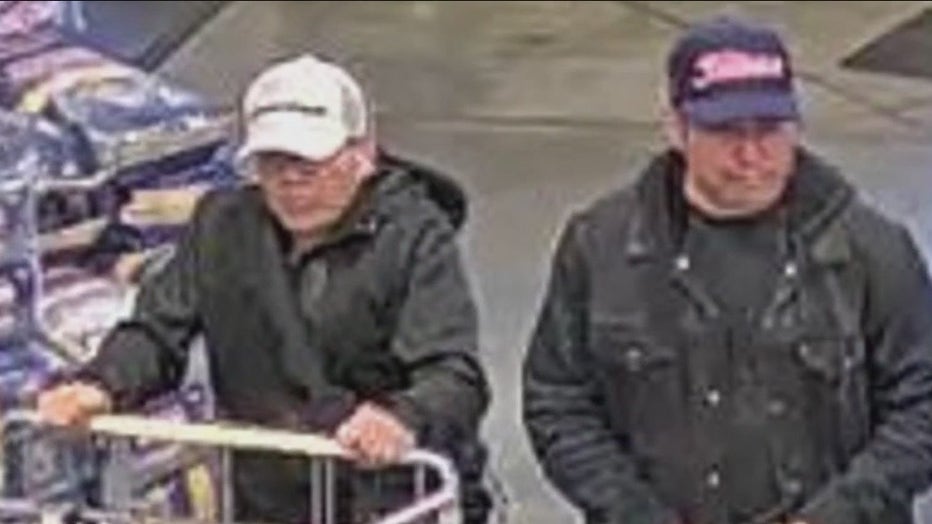 "That's also very common," said Det. Angela Lopez with the Los Angeles County Sheriff's Department. "Credit cards are stolen, the suspects will use them before they're canceled, they'll go to a nearby location and purchase gift cards."
Lopez is one of the detectives on the case, and said she believes the duo is part of a group known to law enforcement.
"It's called the South American theft group," Lopez said. "The suspects come from Chile or Colombia. This is something they're notorious for as far as wallet snatches out of purses at markets. And they prey on mostly elderly. It's happening everywhere, all throughout Southern California."
SUGGESTED: FBI searching for man who robbed armored truck in El Segundo
Lopez said that given information she's gotten from other law enforcement agencies, these crimes are happening all throughout Southern California.
Lopez said some of the best things you can do are to not leave your purse unattended and to make sure it's always zipped up and on your body.
Signs warning of these thefts have popped up at stores like Trader Joe's in Calabasas. Other stores like the Russell Ranch Road Target had security. But, despite robberies happening at least twice at the Westlake Village Costco where Christel Pascucci was victimized, no security was found when FOX 11 reporters went into the store.
Management at the store said cameras don't cover every part of the store. Costco's corporate office refused to offer comment for this story.
In terms of potential charges for if or when these thieves are caught, Lopez said it all depends on what was stolen and how many credit card transactions there were.
The thefts themselves are misdemeanors, but each time a stolen credit car is swiped — even if the transaction is declined — it's felony identity theft.
The LASD said it plans to issue a bulletin on this case in a warning to the public by as early as Monday.