The Hood Santa hits Long Beach with early gifts
LONG BEACH, Calif. - The Hood Santa. Not just any Santa. "The Hood Santa." I was intrigued.
I guess you would say we met by social media. In a day and age where people can reach out to, and reach, reporters by Instagram it should come as no surprise that I would receive a DM (direct message) from @TheHoodSanta. This was Christmas 2018. 
It took six months of back and forth on Instagram for a news story to happen. @TheHoodSanta would message me with happenings by the foundation he co-founded, Local Hearts Foundation. 
Finally, in August in a last minute push, we were able to get the Local Hearts Foundation on the local news. I would meet @TheHoodSanta who's name is Tito Rodriguez. It was for the foundation's annual backpack giveaway.
Rodriguez and co-founder HJ Chong appeared on the FOX 11 5 p.m. News. 
Both got their career start working in music. Rodriguez is a musician and music producer. Chong is a music videographer. Together they launched the Local Hearts Foundation in Long Beach. It is now a registered non-profit. They also do a Turkey give-away at Thanksgiving.
Christmas is their big thing. This year they have 4,500 toys to give out to children in need. The toy drive is being held at MacArthur Park in Long Beach at 1321 East Anaheim Street from 10 a.m. to 2 p.m. Hood Santa will be there in full Santa attire.
So, how did Hood Santa get his name? Rodriguez says it happened when he was delivering toys one year. A boy ran up and said, "Santa don't come here. You're the hood Santa." The name stuck. That was nine years ago. Rodriguez was wearing a Santa suit made of paper that was falling off of him. He now has a full-on Santa suit beard and all.
We caught up with him for a special VIP delivery. Local Hearts Foundation and its major donor Diamond Supply Co. were granting an early Christmas to a single father of five little girls. They'd seen 34-year-old Jesse Alcala and his daughters at past events waiting in line for toys for his girls.
We met up on the street before Alcala's apartment. On this day The Hood Santa was joined by The Grinch. Todd Tucker of Illusion Industries Special Effects Make-Up offered up his time for the holiday surprise. Alcala was in on it and had the girls home and ready for a knock at the door.
As we crept along the sidewalk gifts in hand a car came to a stop at the sight of Santa and Grinch. A group of three girls popped out and wanted a photo. 
Hood Santa and The Grinch made their way up the stairwell to Alcala's apartment. Alcala opened the door and all I could hear were the squeals of his five little girls.
Hood Santa and The Grinch unloaded their bags of toys. One daughter said, "my heart swells." Another said it was "the best thing that ever happened."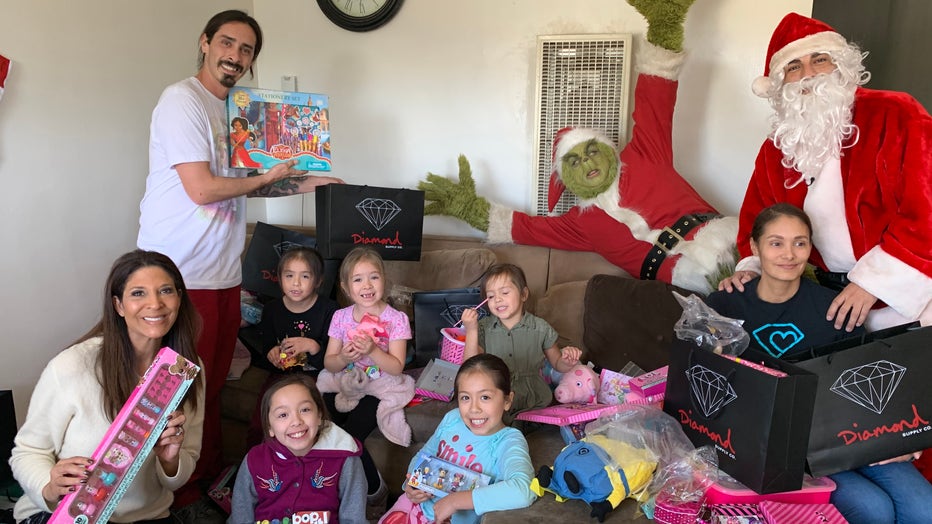 For Alcala, it was a Christmas he could not have provided himself this year. He shared that he "wouldn't be able to afford anything this year."
He works full time in fast food but making ends meet is tough. Rodriguez understands. He lost his father at a young age and remembers growing up poor. Rodriguez had remembered Alcala from their past events and chose him for this FOX 11 News feature.
What Alcala didn't see coming were the gifts for dad — new shoes and clothing. It was a welcome moment as dad got to share in the Christmas cheer and the ripping open of presents with his young daughters.
While any parent would be grateful for the gift of joy it was the gift of helping them live day to day that brought Alcala to tears. Hood Santa handed over a check to cover Alcala's rent for the next month. The two hugged in an embrace that seemed to last an eternity.
For the Alcala's it was a joyous kick-off one week before Christmas. For The Hood Santa and The Local Hearts Foundation, it was just the start of their giving. Their annual toy give-away draws a line of people down the street. Rodriguez first spotted Alcala one year when he says he saw him waiting in line for three hours for a scooter.