The emotional toll of student athletes carrying on without sports
LOS ANGELES - There will be no in-person learning this semester, which also means there will be no high school sports either. What kind of emotional toll will this be for student-athletes? And what if you were banking on an athletic scholarship to go to college?
There are more than 800,000 student-athletes, and many of them are hoping recruiters would be watching their every dribble, throw, or catch this year, including Oaks Christian High school's football player, Koa Pele Allen.
"I've been worried. How am I going to get recruited? How are coaches going to see me during this time?" said Koa.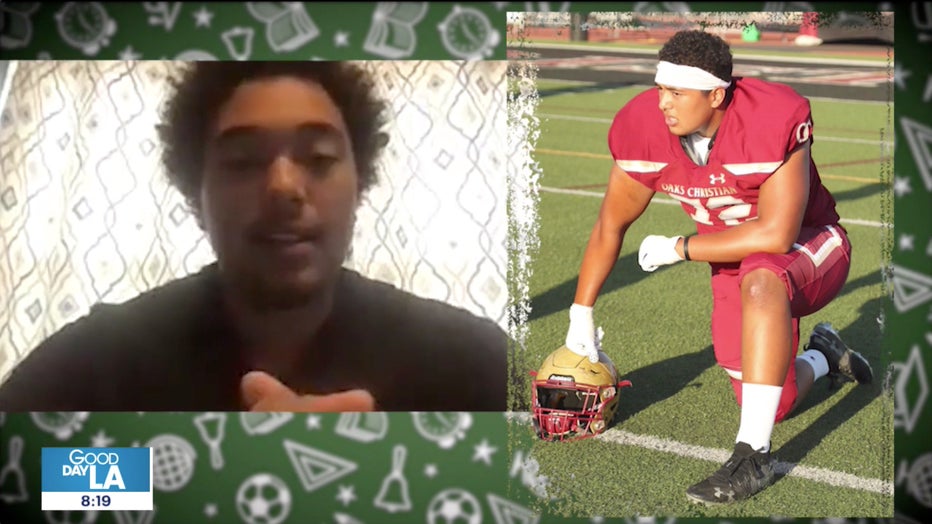 The California Interscholastic Federation (CIF) oversees high school sports in the state. They decided high school sports will be delayed until December due to coronavirus fears. That means college recruits are taking a virtual approach to scouting now.
"College coaches can pull up all of our game films. They can see those kids in action. Digitally now they can see just about anything they want to see," said Oaks Christian Athletic Director, Jan Hethcock.
But the CIF's decision has ripple effects, potentially hindering student-athletes hoping to get a college scholarship.
"Those bubble athletes really need to do their due diligence now. This is also a lesson to be learned for the junior class and senior class, if you think you're going to wait till the beginning of your senior the train has kind of left the station already. You got to get on it now," said Oaks Christian water polo coach, Jack Kocur.
Oaks Christian water polo player, Gracie Hurst, was already being recruited before the pandemic hit. The CIF decision stalled the process.
"Because I was unable to make my official visits, it's taking me longer to decide," said Gracie.
RELATED: Businesses are turning their office space into learning pods for lease
That uncertainty of their future is affecting many student-athletes in other ways. According to a recent study by the NCAA, of the 37,000 student-athletes polled, over a third reported experiencing sleep difficulties. More than a quarter reported feeling sadness and a sense of loss, and 1 in 12 reported feeling so depressed it has been difficult to function "most every day."
FOX 11 spoke with the CIF on the decision and its effects.
"The safety and health of our student-athletes our coaches everyone that is involved in athletics is of the utmost importance. We encourage the coaches to meet with the students via zoom because the mental health of the kids is super important," said Vicky Lagos from the CIF.
In an unprecedented decision, the CIF will allow athletes to participate in club teams at the same time as their high schools used to have to forfeit games when players were caught participating in outside teams during the season of their sport.
RELATED: Parents and teachers turning to 'micro-school' approach to educate students safely from home
The CIF released a calendar of when sports are expected to begin practicing. Alight at the end of a long tunnel for these student-athletes. It could be a tough choice for some students once the seasons start up again due to overlapping. Football season will overlap track season and basketball will overlap several sports.
Get breaking news alerts in the FOX 11 News app. Download for iOS or Android.