Man arrested for murder of San Clemente woman found dead in alley near work
LAGUNA BEACH, Calif. - A man has been arrested for the alleged murder of a 27-year-old San Clemente woman who was found dead in an alleyway in Laguna Beach, steps from where she worked over the weekend.
Dino Rojas-Moreno was arrested Wednesday on suspicion of murdering Tatum Goodwin, the Laguna Beach Police Department announced.
A construction worker found Goodwin's body on Nov. 12, around 8:20 p.m. in a secluded location near the 200 block of Ocean Avenue, not far from Carmelita's Restaurant, where she worked as a waitress.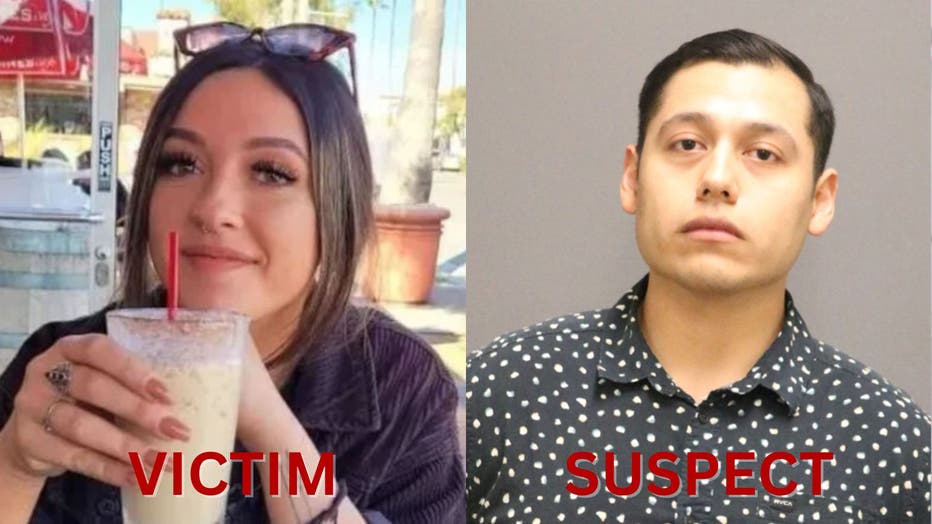 Tatum Goodwin (left) was found murdered in Laguna Beach on Nov. 12. Dino Rojas-Moreno (right) was arrested on suspicion of her murder on Nov. 15.
PREVIOUS COVERAGE: California woman, 27, found dead in Laguna Beach alley steps from work: report
On Wednesday night, dozens of family and friends gathered at the San Clemente Pier to mourn Goodwin and reflect on her life. 
"She was a 'bring-you-Carl's-Jr-to-work-and-sit-with-you-while-you're-stuck-working-on-Thanksgiving' friend," said one mourner, through tears.
"I wasn't there to protect her. She didn't deserve this," said sister Kaylee Goodwin. Goodwin's mother said the hardest part is that her daughter was "alone fighting for her life. You're helpless you can't do anything."
Rojas-Moreno's bail was set at $1 million.