Gruesome new details emerge in Laguna Beach kidnapping, murder of 27-year-old Tatum Goodwin
LAGUNA BEACH, Calif. - Gruesome new details have emerged in the kidnapping and murder of a 27-year-old San Clemente woman who was found dead in an alleyway in Laguna Beach, steps from where she worked over the weekend.
Prosecutors said that Dino Rojas-Moreno beat Tatum Goodwin to death with a fire extinguisher and left her body with a sandbag covering her head at a nearby construction site.
Rojas-Moreno, 26, of Laguna Hills, has been charged with one felony count of murder, one felony enhancement of special circumstances of committing the murder in the commission of a kidnapping, and one felony enhancement for the personal use of a weapon, a fire extinguisher. He is currently being held without bail. He is scheduled to be arraigned at on November 20,
Investigators said that Rojas-Moreno approached Goodwin in a nearby parking lot around 1 a.m. that morning and allegedly assaulted her near her parked car.  Rojas-Moreno then forcefully dragged her to the rear of the parking lot, down a short alley, and to a secluded area behind a movie theatre that was under construction. Rojas-Moreno is then accused of beating Goodwin to death with a fire extinguisher. 
A construction worker found Goodwin's body on Nov. 12, around 8:20 p.m. in a secluded location near the 200 block of Ocean Avenue, not far from Carmelita's Restaurant, where she worked as a waitress.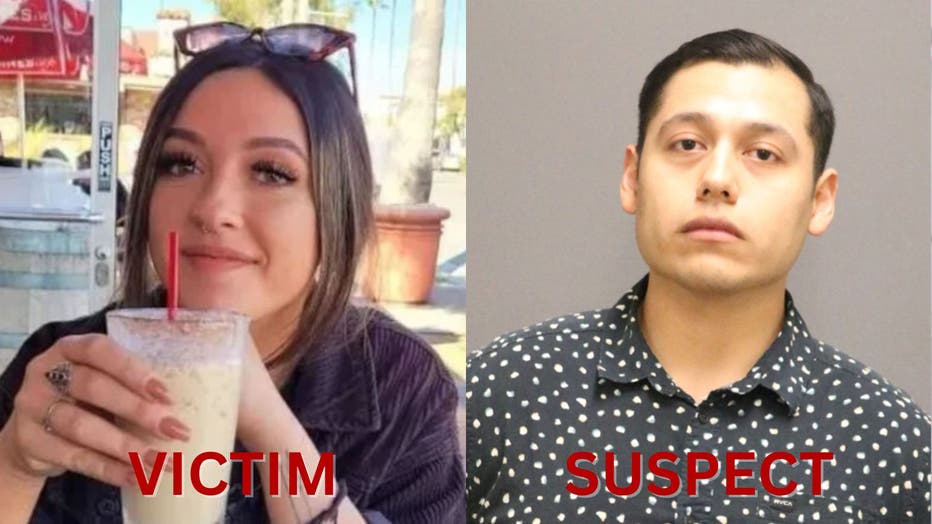 Tatum Goodwin (left) was found murdered in Laguna Beach on Nov. 12. Dino Rojas-Moreno (right) was arrested on suspicion of her murder on Nov. 15.
Authorities said that is unclear whether Goodwin had any prior relationship with Rojas-Moreno. Rojas-Moreno failed to show up to work the day of the murder after claiming he had been jumped by several men in Santa Ana.
PREVIOUS COVERAGE: 
Goodwin was a popular assistant manager at Carmelita's restaurant in Laguna Beach near the corner of Broadway and Coast Highway.
On Wednesday night, dozens of family and friends gathered at the San Clemente Pier to mourn Goodwin and reflect on her life. 
"She was a 'bring-you-Carl's-Jr-to-work-and-sit-with-you-while-you're-stuck-working-on-Thanksgiving' friend," said one mourner, through tears.
"I wasn't there to protect her. She didn't deserve this," said sister Kaylee Goodwin. Goodwin's mother said the hardest part is that her daughter was "alone fighting for her life. You're helpless you can't do anything."
Anyone with information on this killing was asked to call Laguna Beach Police Department Detective Tanner Flagstad at 949-497-0369. Tipsters can also call Orange County Crime Stoppers at 855-TIP-OCCS.