Sun Valley church pastor: 'We spread the word, not the virus'
SUN VALLEY, Calif. - Those words from Grace  Community Church's Pastor John MacArthur, who joined FOX 11 for a rare sit-down interview to talk about his defiance of Governor Newsom's orders and the LA County Health Department's guidelines not allowing in-person services in churches.
The County of Los Angeles has asked a judge to hold the church in contempt, after this Sunday's services, which featured one of LAPD's Chaplain's and a full house of hundreds of worshippers.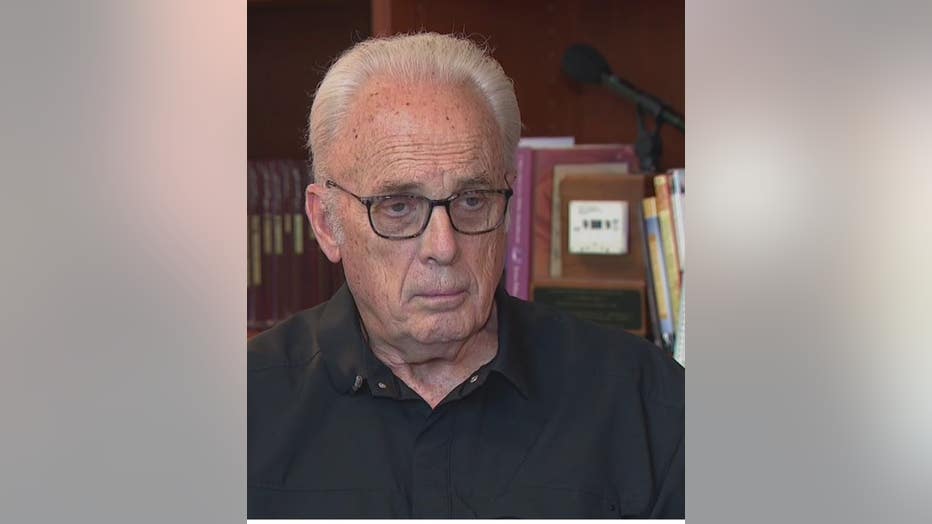 "We are not being defiant" he explains, and "we don't want to get anyone sick."
Since the original closures, they've had online services, but explains that parishioners began to show up at the church about five weeks ago, and they couldn't turn them away. The guidelines would require them to have each person six feet apart, and have them quarantine for two weeks if they are inside the large chapel for fifteen minutes, which is "undoable" for a church as large as his.
Get breaking news alerts in the FOX 11 News app. Download for iOS or Android.
Since the services began, Pastor MacArthur claims he has not had reports of parishioners getting seriously sick. The numbers, according to him, indicate the worse danger has passed, and fatalities remain at such a small percentage that "there is no reason" to continue these closures.
RELATED: Stay up to date on all coronavirus-related information
LAPD Chief Michael Moore is saying he does not see his officers implementing health guidelines for the county, by going into churches. His words echoed by several law enforcement agencies we checked in with, at other locations where churches are doing the same.
A hearing on the county request is scheduled for early September, but Grace Community vows to continue indoor services.
RELATED:  LA County files lawsuit against Sun Valley church refusing to halt indoor services
Thomas More Society attorneys are representing the internationally followed preacher and his church and defending their religious freedoms against what they describe as the county's unconstitutional violation of the right to worship together.
Jenna Ellis, Special Counsel for Thomas More Society, responded to the attack by the county: "The LA County Board of Supervisors has decided to continue their unconstitutional attack against Pastor John MacArthur and Grace Community Church.
RELATED: Sun Valley church refuses to close despite pandemic
They are now asking the court to hold the church in contempt for simply being open for worship last Sunday. Pastor MacArthur is standing firm that church is essential and has no plans to yield to this tyrannical board, which is clearly defying the constitution's mandate to protect religious liberty." 
MacArthur and Grace Community Church are suing the county – and the state of California – for attempting to shut down their worship under COVID-related orders that violate the state's constitution.
The lawsuit was filed after MacArthur received a cease and desist letter prohibiting indoor worship and threatening him with fines and imprisonment should Grace Community continue to worship in their church building.  
"We will continue praising the Lord," says the pastor, adding that business owners, college students and all those being stopped from living their lives freely might want to "stand up and say enough."