School Standouts: Teacher made hospital visits to keep student with cancer from falling behind
WESTLAKE VILLAGE, Calif. - There's a saying in the cancer community — if one member of the family has cancer — the whole family has it. It's because it affects everyone.  
When 9-year-old Sammy Covert from Westlake Village was forced to fight for his life, one incredible teacher stood squarely in his corner.
Ann Bornhoeft is a seasoned 3rd-grade teacher at White Oak Elementary with over 35 years experience in the classroom. She was Sammy's teacher right before he was diagnosed in May 2019 with Acute Lymphoblastic Leukemia, a deadly but highly treatable form of cancer.  
Knowing chemotherapy would make it impossible to attend school, Sammy's principal asked for a volunteer to tutor Sammy in a program called Home Hospital.
Mrs. Bornhoeft raised her hand immediately.  
Sometimes she'd go to Sammy's home. Other times she and her husband would make a two-hour trek to Children's Hospital in East L.A. where they worked on homework and played games.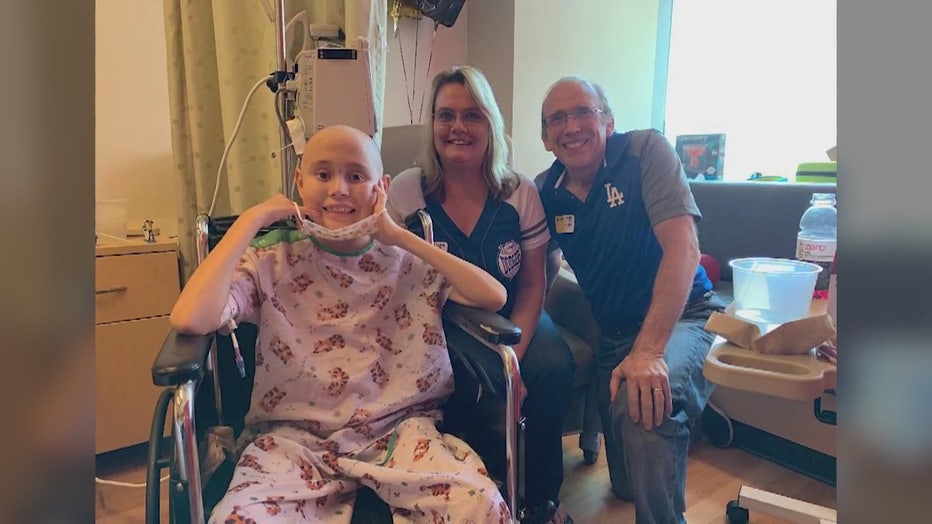 Occasionally, because of chemo administered through his spine, Sammy was too sick to read or even play games. Cancer has an ugly side. That's when Mrs. Bornhoeft would simply read to Sammy. Her presence encouraged him throughout his recovery.  
The White Oak Community also stepped up big time! Neighbors started a meal train packing the Covert's fridge with food for months. A GoFundMe raised over $65K allowing the Covert family to hire a caregiver for Sammy's three younger siblings when Sammy's parents – Sam and Andrea – had to spend all day at CHLA with Sammy for his treatments.
This week, Sammy returned to class for the first time in the 2019/2020 school year. The Covert's say they're eternally grateful for Mrs. Bornhoeft and for the love and support of the White Oak Elementary community in Westlake Village. 
Congratulations, Ann Bornhoeft on being featured on FOX 11's School Standouts.
If you'd like to nominate a person or program for FOX 11 School Standouts, head over to FOX11SchoolStandouts.com or email FOX 11's Dan Cohen directly at Daniel.Cohen@foxtv.com.