School Standouts: Kayla Perez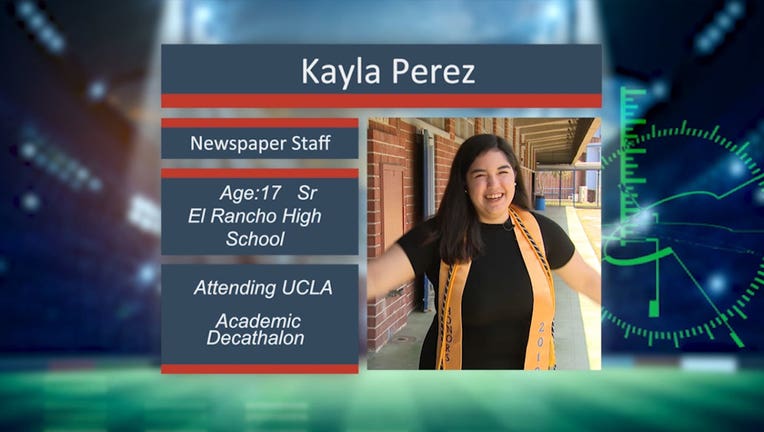 article
Name: Kayla Perez
School: El Rancho High School
Stats: 4.1 GPA
College Bound: UCLA! Go Bruins!
Favorite Band/Artist: BTS, The 1975, DEAN, Led Zeppelin, Tyler the Creator, Lizzo, Rihanna, And Beyonce
Favorite Song: I don't really have one but I remember always wanting to listen to "Clocks" and "Yellow" by Coldplay as a kid.
Favorite Food: Tacos Al Pastor
Favorite Local Hangout: The boba shop Uno near my school! I have a lot of memories there from hanging out with my friends.
Favorite Movie: Edward Scissorhands and Inception
Favorite Teacher: My journalism advisor, Mr. Zeko, and math teacher, Mr. Francis, they've been there for me since day one.
Favorite City: Seoul and Los Angeles
First Job: Making tamales and selling them at school!
When I Grow Up I Want To Be: A manager in the entertainment business or foreign affairs specialist.
Favorite Subject In School: English and Ethnic Studies
Last Book I Read Was: "Demian" by Herman Hesse
Favorite Superhero: Spider-Man, Scarlett Witch, and Jean Grey
Life Quote: Don't really have one, I think you should just do what you love in life and try to grow as much as possible.
I Most Admire: People with compassion
My Biggest Inspiration: My family
If I Could Go Anywhere In The World, It Would Be: Italy
My Favorite Sports Team: I don't have one, I don't keep up with sports sorry lol
My Favorite Sports Player: I don't have one
Favorite Saying: "Love yourself"
Favorite Word: Marvelous
If I Could Have Dinner With Anyone It Would Be: Audrey Hepburn
Favorite TV Show: Black Mirror
I Want To Be: Genuinely happy