Santa Monica Bluffs emergency repairs above the PCH prompt road closures
SANTA MONICA, Calif. - A much-needed project has been completed, officials said. 
Crews temporarily closed portions of the westbound 10 Freeway, northbound Pacific Coast Highway, and the northbound Moomat Ahiko Way on-ramp as they rushed to address what appeared to be a portion of the Santa Monica Bluffs in danger of crumbling and falling onto PCH. 
According to city officials, crews used a large crane with a clamshell attachment to remove the top portion of the unstable bluff and slowly broke it apart for hauling off-site. 
To accommodate these emergency repairs, the following road closures went into effect at 11:30 p.m. Tuesday:
Northbound Moomat Ahiko Way on-ramp to PCH closed starting 11:30 p.m. Tuesday
Westbound 10 Fwy at Lincoln Boulevard through northbound PCH to the California Incline closed at 2 a.m. Wednesday
Crews completed the project ahead of schedule and all road closures were lifted by 11 a.m. Wednesday.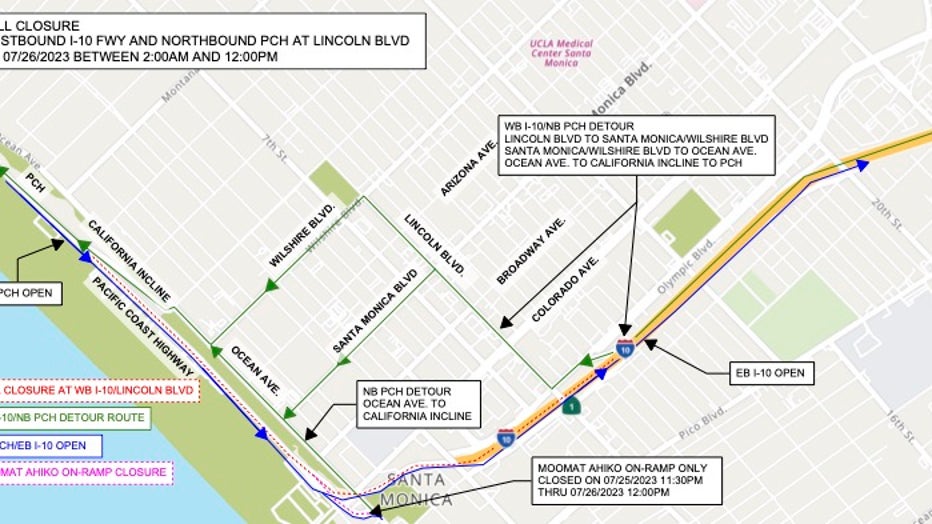 The Lincoln Boulevard off-ramp to the eastbound 10 Freeway remained open during the project, in addition to the California Incline, southbound PCH, and eastbound 10 Freeway. 
To see a detailed schedule of the closures, tap or click here.