Saildrone deploying record 12 drones to hunt hurricanes in Atlantic, Gulf of Mexico
Specialized nautical drones will provide more eyes to track large and destructive Atlantic hurricanes this season, helping researchers better understand the storms' movements as they grow and intensify.
In partnership with NOAA, 12 Saildrone Explorers will be deployed throughout the mission – more than any mission the company has performed before. The dozen unmanned vehicles will be storm chasing in the tropical Atlantic Ocean and Gulf of Mexico.
This is the third year in a row Saildrone has deployed its uncrewed surface vehicles (USVs) to support NOAA's hurricane research.
"Saildrone is proud to support this critical research being conducted by our long-time partners at NOAA," Saildrone founder and CEO Richard Jenkins said. "It is an understatement to say that the ocean is a vast place, and we know relatively little about it.
SAILDRONE'S JOURNEY INTO CATEGORY 4 HURRICANE UNCOVERS CLUE INTO RAPIDLY INTENSIFYING STORMS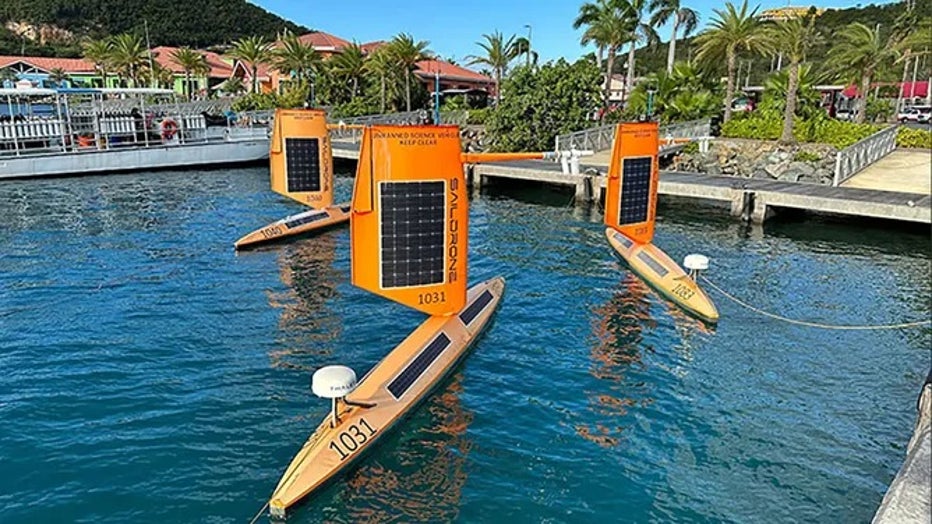 Three Saildrone Explorers await deployment in sunny St. Thomas, U.S. Virgin Islands. (Saildrone)
More accurate forecasts, earlier warnings
Each USV will study why some relatively mild tropical storms rapidly intensify into major hurricanes, according to Saildrone.
"Rapid intensification, when hurricane winds strengthen by 35 mph or more in a matter of hours, can be a serious threat to coastal communities," said Greg Foltz, a NOAA scientist and one of the mission's principal investigators.
Foltz said the data provided by Saildrone and the other uncrewed systems that NOAA is using will also help with more accurate forecasts and earlier warnings for communities.
SAILING DRONES TO PINCH HIT FOR BUSTED BUOYS IN GULF OF MEXICO DURING PEAK HURRICANE SEASON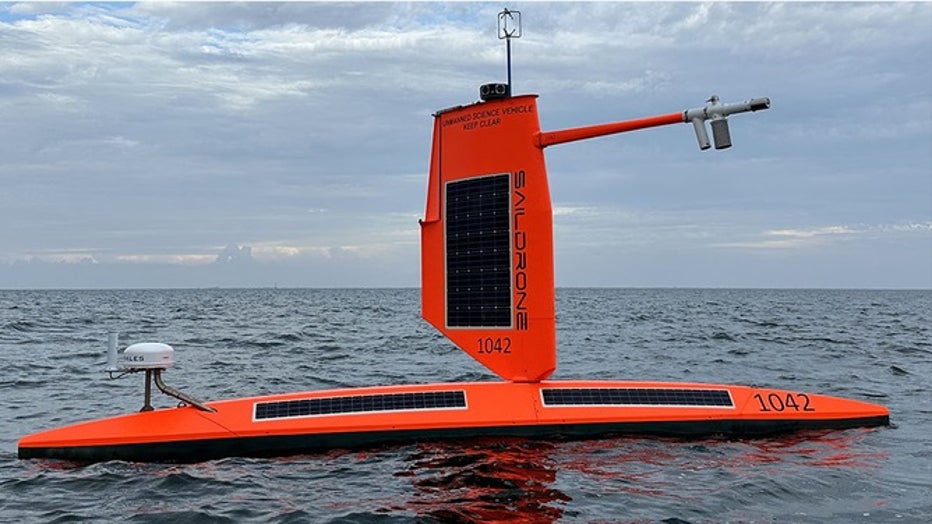 SD 1042 is one of 12 Saildrone Explorers equipped with a special "hurricane" wing that will collect data for the 2023 Atlantic hurricane mission. (Saildrone)
Each Saildrone Explorer spans 23-feet propelled by the wind and powered by solar energy, with a zero operational carbon footprint, Saildrone said. The company has also designed a shorter, more robust wing to withstand wind speeds over 75 mph and large breaking waves.
The saildrones will collect ocean data, like air temperature and relative humidity, barometric pressure, wind speed and direction. They can also measure water temperature and salinity, sea surface temperature and wave height and period.
DRONE VIDEO SHOWS 50-FOOT WAVES AND DESTRUCTIVE WINDS IN THE HEART OF HURRICANE FIONA
The first 10 have already been or will soon be deployed from St. Thomas, U.S. Virgin Islands, St. Petersburg, Florida, and Charleston, South Carolina. Two vehicles will remain on shore in the event of an approaching hurricane. 
"The more vehicles we can deploy, the more data Saildrone can provide to address not only hurricane forecasting but other maritime challenges like illegal fishing, safety of life at sea, and safe navigation," Jenkins said.
Saildrone may find a busy Atlantic Hurricane Season
On Friday, hurricane experts at Colorado State University increased the anticipated amount tropical cyclones they expect to form in the Atlantic basin during the 2023 season and warn the year might finish with above-average activity.
The updated annual outlook now calls for 18 named storms, nine hurricanes and four that will reach major hurricane status with winds of at least 115 mph.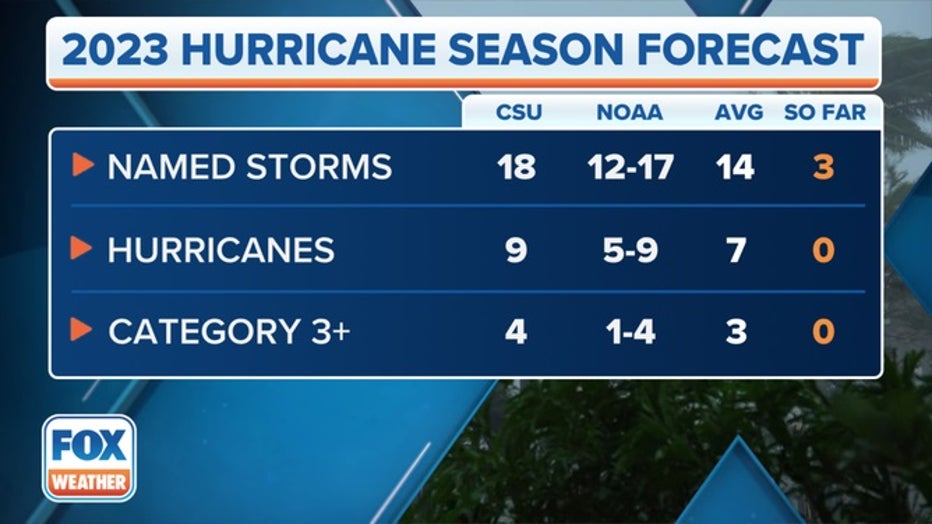 CSU's updated 2023 Atlantic hurricane season forecast compared to NOAA and the 30-year averages. (FOX Weather)