Utah faces Penn State as the sun sets on traditional Rose Bowl era
PASADENA, Calif. - The sun usually sets behind Arroyo Seco late in the third quarter of the Rose Bowl. The moment is often spectacular, with clouds turning pink and orange while the San Gabriel Mountains light up in dazzling reds and yellows amid the dying rays.
The sun is also setting on an era of Rose Bowl history Monday when No. 7 Utah (10-3, No. 8 CFP) faces No. 9 Penn State (10-2, No. 11 CFP).
"We're playing in the last, I guess, traditional Rose Bowl," Penn State defensive tackle Nick Tarburton said.
The 109th edition of the Granddaddy of Them All is the last that's guaranteed to feature the game's time-honored pairing of Pac-12 and Big Ten teams. The game's status as a College Football Playoff semifinal next season and the expanded playoff in 2024 has put the future in flux for the sport's oldest active bowl game.
"If indeed this does become the last traditionally slotted Rose Bowl, it's a great honor to be a part of that, and we want to do it proud," Utah coach Kyle Whittingham said.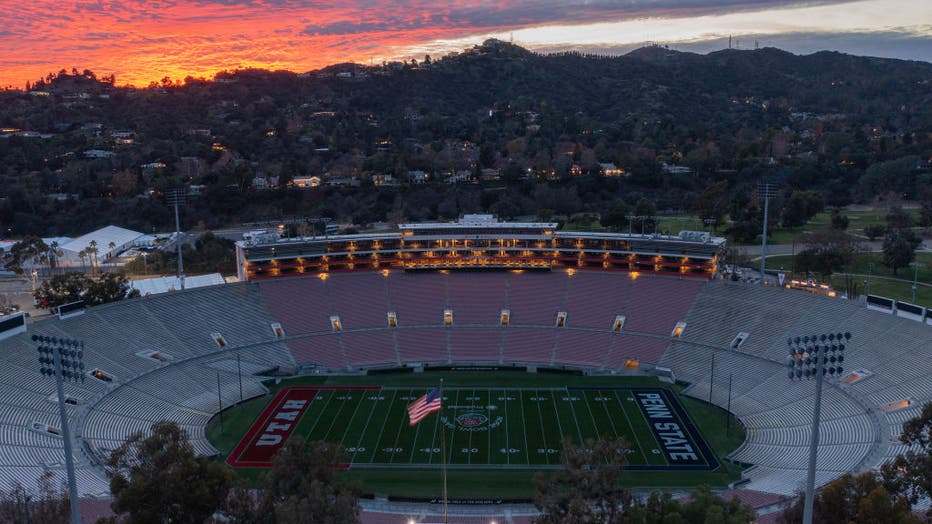 An aerial view of the 100-year-old Rose Bowl Stadium prior to the Rose Bowl Game.(Photo by David McNew/Getty Images) (Getty Images)
For such a tradition-rich sporting event, this uncertainty is unusual — but not actually unprecedented, as pointed out by Laura Farber, the chair of the Rose Bowl Management Committee.
While the Rose Bowl is a national New Year's Day institution, kicked off by the famed Rose Parade and continuing to the 2 p.m. kickoff that leads to those famous sunsets, the big game has been played on days other than Jan. 1 — including this year because New Year's Day falls on a Sunday — and featured all sorts of geographical matchups over the decades, particularly in its first half-century of existence when Ivy League squads and Southern powers often made the trip.
"It's really hard to say what the future holds, because nobody knows," Farber said. "What's interesting is learning to balance between tradition and innovation, and being flexible and embracing the changes, because there's been hyper-speed changes for the past year in college football, the past few years, really. We've had to be flexible, yet remind everybody how much this game means to so many people."
BIG FINISH
This Pac-12/Big Ten matchup has everything necessary to go out with a bang.
Both programs are repeat visitors to Pasadena, with consistent track records of success under two prominent, respected coaches who never have won the Rose Bowl. The Utes won the Pac-12 and reached Pasadena for the second straight year in another high point on their impressive journey to national prominence, while the Nittany Lions lost only to playoff-bound Michigan and Ohio State in another double-digit win campaign.
The Rose Bowl marks the first meeting between the schools. Utah is the only Pac-12 school the Nittany Lions have never faced.
"I think there's a lot of similarities between our programs and how they're built," Penn State coach James Franklin said. "(Utah is a) fundamentalist program, tough, sound. We're playing really well on defense and have been all year long. I think they've been built with his (Whittingham) background on the defensive side of the ball as well. But I think their quarterback really makes them go. I've got a ton of respect for him."
SECOND SHOT
Utah quarterback Cameron Rising could be finishing his college career with one more game in his native Southern California, but the Ventura County product isn't thinking ahead to the NFL just yet. He passed for career highs of 2,939 yards and 25 touchdowns this season, capped by a stellar three-TD effort in the Utes' conference title game win over USC.
Rising also has redemption on his mind: He got injured while last season's Rose Bowl was tied with about 10 minutes to play, and Ohio State rallied for a 48-45 win even after Rising's backup, Bryson Barnes, led a TD drive.
"We're happy to be back, but we have unfinished business we want to go get done this time," Rising said. "I remember seeing (Ohio State) celebrate and have the ceremony right after, and seeing that after I walked off the field. That's been engraved in my head ever since, and I want to be on the other side of it now."
LAST CHANCE
Quarterback Sean Clifford is a sixth-year senior playing in his 51st game for Penn State. He is the school's career leader in yards passing and TDs, but he is looking to cap his career with what might be his biggest victory.
Clifford has just one bowl win on his resume: a 53-39 win over Memphis in the 2019 Cotton Bowl in which he passed for only 133 yards.
"When the lights are shining the brightest, you've got to perform at your highest level," Clifford said. "It's just taking it all in when you first run out, being out there for a second or two, and then it's about winning the game."
SITTING OUT
Both teams will be missing key players who skipped Pasadena to prepare for the NFL draft.
Penn State will be without cornerback Joey Porter Jr., a second-team All-American and shutdown defender on the perimeter, while Utah won't have its first-team All-American cornerback, Clark Phillips III. The Utes also are without tight end Dalton Kincaid, who had a whopping 70 catches for a team-leading 890 yards and eight TDs, and leading rusher Tavion Thomas.