Rolling Hills Estates landslide: Several homes 'completely destroyed', 12 homes evacuated
ROLLING HILLS ESTATES, Calif. - Evacuations remain in place for 16 people Monday after a portion of a hillside gave way in Rolling Hills Estates over the weekend, destroying some homes and threatening a dozen others.
The Los Angeles County Fire Department responded to a home on Peartree Lane on a report of a residential water leak around 4 p.m. Saturday. That's when crews noticed cracks and structural damage both inside and outside the home, prompting further investigation, according to Craig Little with the Los Angeles County Fire Department. 
That's when authorities ordered the evacuation of 12 homes. Some residents said they heard cracks underneath their homes beginning Thursday.
RELATED: What is DIC insurance? Why hillside homeowners need special coverage
Rolling Hills Estates is an affluent city located in LA's South Bay area, about 30  miles south of downtown Los Angeles.
From @SupJaniceHahn via Twitter
Los Angeles County Supervisor Janice Hahn said she was taken on a brief tour of the affected area Saturday night and saw the fissure winding its way through the affected homes. 
"In my opinion, the land continues to move very quickly," she said during a press conference the following day. "Since I've been here, I've been told the land has moved 6 feet."
Officials said at this time the 12 evacuated homes are not inhabitable and have sustained "substantial damage." They said they expect to see the damages extend further throughout the day.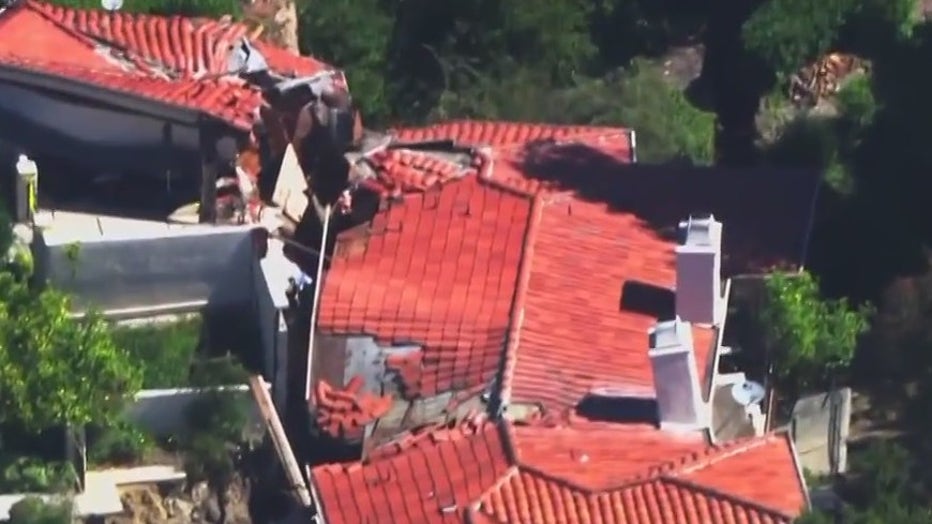 SkyFOX flies over Rolling Hills Estates on Monday, July 10.
Officials said land movement is causing this, possibly due to the excessive rains or even an underlying because that has not yet been discovered.
Specialists and geologists are expected to assess the scene in the coming days.
Deputies from the Los Angeles County Sheriff's Department's Lomita Station were patrolling the neighborhood "to ensure the evacuated homes are secure," Hahn said.
Authorities said they have extended the safety perimeter to protect adjacent homes and they have not noticed any changes to those nearby homes that are a cause for concern. 
Gas service has been shut off in the area to all residents, while water and electricity has been cut to the specific units that have been evacuated.
"I have not seen anything like this in the area," "Hahn said. "Being here today and seeing this incredible movement… I've never seen anything like this."
Officials noted the homes are situated on a bluff on the edge of a hill that drops into a canyon about 50 feet below. There is a ravine behind the home and nothing at the bottom of that ravine. Walking trails in the area are blocked off. 
The Red Cross is assisting the evacuated residents.
City News Service contributed to this report.