Family and neighbors mourn Riverside triple murder victims
RIVERSIDE, Calif. - Family and neighbors of three people who were found dead inside of a home in Riverside's La Sierra neighborhood gathered for a vigil Saturday.
The vigil comes after Riverside police were called to a home Friday morning for a disturbance between a man and a woman, who police said both took off in a car. Shortly afterwards, neighbors reported a house fire, and firefighters discovered three people dead inside of a room in the home. Family members said a mother, father and their daughter were the victims.
On Saturday, San Bernardino County Sheriff's deputies said a person linked to the triple homicide is now dead after being shot by deputies in Needles, a city in San Bernardino County, sitting on the California-Arizona border more than 200 miles northeast of Riverside.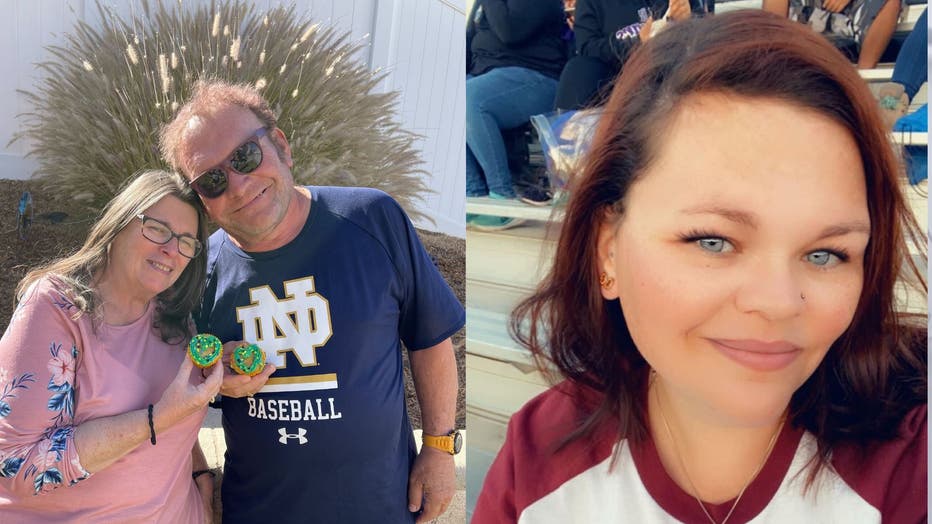 Sharie Winek (left), Mark Winek (center) and Brooke Winek (right) were identified by family as the three found dead in a Riverside home.
PREVIOUS COVERAGE: 3 found dead in Riverside house fire
Dozens of people came to the vigil to show support for the family on Saturday, and a family member spoke. Family has identified the victims as Mark Winek, Sharie Winek, and their daughter, Brooke Winek. 
"This is truly amazing to see all of you out here supporting and giving us strength. We really need it and we are really appreciative. You are going to keep my family's legacy in your hearts and spread the love. Thank you for being here, honoring my family," said the family member who is not being identified at this time.
Neighbors described the Wineks as "loving."
"I've been living in the community for the past three to four years and as soon as I moved in, I moved in as a single parent. Right away the homeowner (victim) that's been here for the past 22 years, lent a helping hand," said Joy. "He said, 'Hey welcome to the neighborhood.' He said, 'I'm gonna mow your lawn, I'm gonna help you out, watch your house when you're not here.'" 
Bonnie Davis has lived next door to the family for more than 20 years.
"I honestly couldn't ask for better neighbors," said Davis. "They were just the most loving family. It just didn't need to happen. It should not have happened and especially to them. They loved their kids. They loved their grandbabies. They're just a wholesome family. I can't say that enough. They're someone you want next to you, someone you want as a neighbor. Everybody needed a Sharie and Mark as a neighbor."
Neighbors said the male victim is a popular and beloved coach in the community. Several students showed up for the vigil.
"Mark was the known coach in the area for Hillcrest High, Arlington and everybody loves him and he would do whatever for you," said Joy.
The family has set up a GoFundMe campaign to help pay for funeral expenses.