Riverside County sheriff's deputy dies after on-duty traffic crash in San Jacinto
RIVERSIDE COUNTY, Calif. - A Riverside County sheriff's deputy has died after suffering major injuries during an on-duty traffic crash on Friday.
Deputy Brett Harris, assigned to the Hemet Sheriff's Station, was responding to a call for service around 2:15 a.m. at the intersection of Esplanade Avenue and State Street when the two-vehicle crash happened, according authorities.
Video from the scene shows the patrol vehicle was left mangled in the collision.
RELATED: Riverside County sheriff's deputy critically injured in San Jacinto crash
The deputy, later identified as Harris, was trapped in the wreckage and a second deputy was injured trying to save him, officials said. Once paramedics arrived at the scene, Harris was rushed to an area hospital in critical condition and the second deputy was hospitalized with non-life-threatening injuries.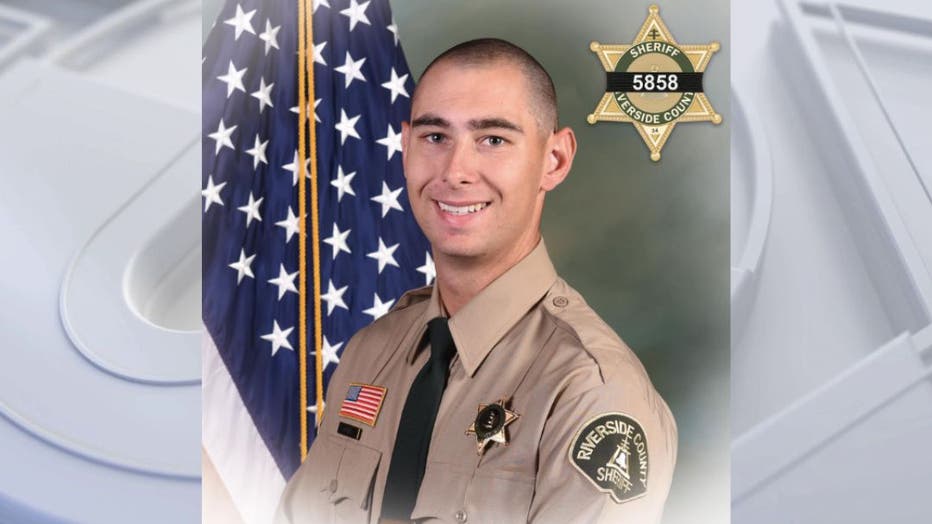 Deputy Brett Harris / Riverside County Sheriff's Office
Officials said the driver of the second vehicle involved in the crash was taken to the hospital with unknown injuries. 
According to officials, Harris suffered a catastrophic brain injury.
"In a final act of Service Above Self, it was Deputy Harris's wish to donate his organs so that others may live. The Harris family is currently working with the hospital to ensure his wishes are honored," the Riverside County Sheriff's Department said in a statement. 
Harris is survived by his wife, siblings, and parents.
"Please continue to pray for Deputy Harris's wife, mother and father, twin sister, brother, and the men and women of RSO as we navigate this process," the department said.
California Attorney General Rob Bonta issued a statement regarding the death of Harris:
"On behalf of the California Department of Justice, I extend my deepest condolences to the loved ones and colleagues of Riverside County Sheriff's Deputy Harris, who lost his life in the service of his community," said Attorney General Bonta. "This tragedy is yet another solemn reminder of the sacrifice men and women in law enforcement make each and every day when they put on the uniform and badge, not knowing if they'll come home to their families at the end of their shift. Sheriff's Deputy Harris' ultimate sacrifice will never be forgotten by a grateful state and her people."
Governor Gavin Newsom issued the following statement:
"Jennifer and I join Riverside County in mourning the tragic loss of Deputy Harris. Our deepest condolences are with his family, friends, and fellow law enforcement personnel at the Riverside County Sheriff's Office. Deputy Harris and all those who give their lives in service to our state will forever be remembered."
Funeral arrangements were not yet released.