Restaurant requires 18% service charge for 'parties of 1 or larger,' prompting outrage
A customer at a Vietnamese restaurant in California was forced to pay an 18% gratuity charge under a restaurant policy that requires the surcharge for any tables with "parties of one or larger."
A photo of the receipt, taken at the Cupertino location of Pho Ha Noi, was then posted to Reddit's "mildly infuriating" thread showing the policy. It reads: "18.00% Service Charge Included. For parties of 1 or larger, a 18.00% gratuity is applied automatically. If you have any questions, please speak with a manager."
Reddit user TRTL2k shared the photo, writing: "This restaurants (sic) has an automatic 18% service charge for parties of ONE or higher. I've seen restaurants include gratuity when it's a large party but never for parties of 1!"
The post prompted nearly 5,000 comments as many users were infuriated by the fee.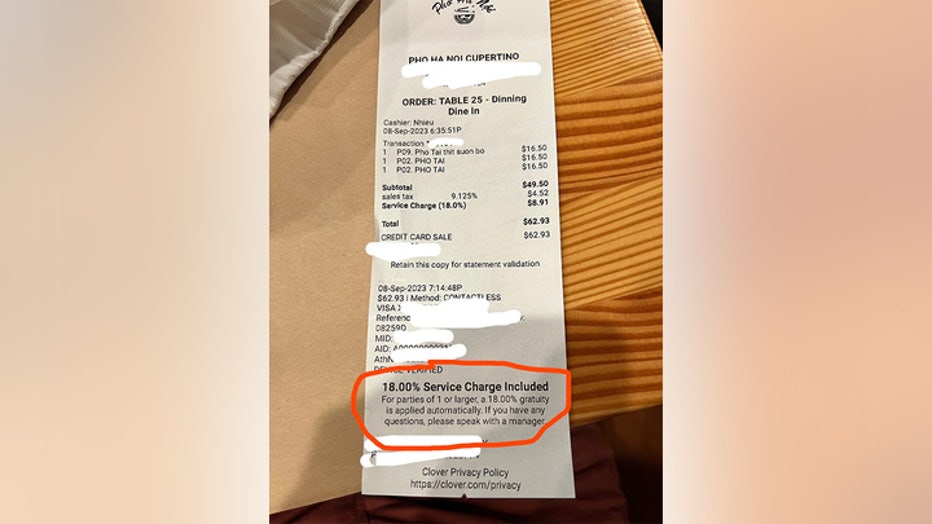 A receipt from a Cupertino Vietnamese restaurant, showing an automatically added 18% gratuity. (Photo via Reddit /r/mildlyinfuriating)
SUGGESTED: Family forced to cancel vacation after venti-sized tipping error at Starbucks
The receipt also showed the meal had three items with a $49.50 subtotal. After $4.52 in sales tax and the 18% surcharge of $8.91, the customer was required to pay a whopping $62.93, according to the posted receipt.
Many users who commented on the photo said they would have walked away from paying the outrageous fee, with others saying they had walked away from similar situations.
"That's the tip as far as I'm concerned," one user wrote. 
And, "For parties of 1 or larger? What a convoluted way of saying everybody is charged 18%."
"I'd just walk out honestly," another responded. "F--- that," said another.
SUGGESTED: Here are the cities that tip the best, study finds
Other suggested the fee would turn them away from the restaurant for good.
"Neat way to lose customers," one user said.
Another added, "Stop going there."
"I would refuse to pay until they take it off. This is illegal if they did not disclose it up front. Once they take the charge off, leave no tip and pay the tab and never return again," yet another said.
The post comes as inflation accelerated for a second straight month in August, reversing previous declines. Consumers continue to grapple with the rising cost of everyday goods.
The Labor Department said Wednesday that the consumer price index, a broad measure of the price for everyday goods including gasoline, groceries and rents, rose 0.6% in August from the previous month.
FOX Business' Megan Henney contributed to this report.