Residents, firefighters describe harrowing rescue from burning West L.A. high rise
LOS ANGELES - A day after a dramatic rescue at a high-rise apartment building in West Los Angeles we're now hearing from residents who were air lifted off the roof and from the firefighters that rescued the man clinging to the outside of the burning building. 
Heavy black smoke, chaos and fear… that's how residents in the Barrington Plaza described Wednesday's escape from the burning high rise. 
Related: Authorities continue to investigate 'suspicious' fire at West L.A. high-rise
11 injured, including 3-month-old baby, in West Los Angeles 25-story apartment fire
Hassan Tajalli and Ahmed al Lahiani were two of the 15 people airlifted off the roof when a fire broke out on the 7th floor. It was so hot the windows blew out and high winds stoked the fire. 
"I didn't even look down there, I was scared you know in smoke, I was scared, I just wanted to get saved," Tajalli said. 
On Thursday, residents were escorted into the building…given five minutes to grab their items from the red tagged building.  
After the fire broke out a man in his 30's was seen clinging to the tiny edge of the window. Bystanders watched as the Los Angeles Fire Department positioned the ladder truck to get to the man.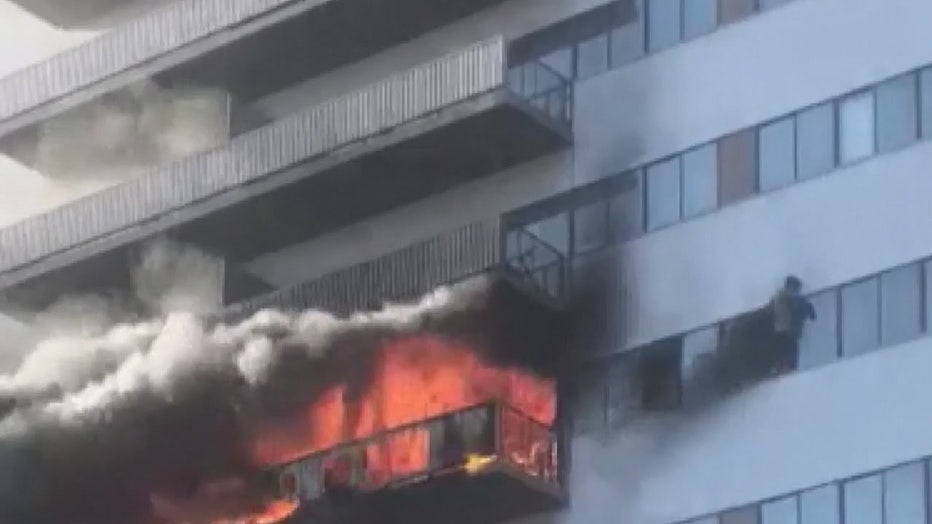 "I was saying sir, 'we got you we're going to be there in a second. Just stay right there. He start to scale over a little bit," said Garrett Boccaro with the fire department during an afternoon press conference. 
  
For another perspective, the fire department shared video of how high the man was off the ground and how narrow the ledge was he was standing on. 
"There was about a three foot gap, between the ladder and the ledge he was standing on and that was our max reach," added Boccaro. 
Part of the reason the fire was so aggressive was this is a grandfathered in building… meaning it is not required to have fire suppression features like sprinklers. 
Councilmember Mike Bonin plans to reintroduce legislation to force the owners of the 50 plus high rises without sprinklers to retrofit their buildings.