Red flag warning issued as Santa Ana winds expected to produce critical fire weather conditions in SoCal
LOS ANGELES - A red flag warning was issued on Tuesday over most of Los Angeles and Ventura Counties for early Thursday through Friday afternoon due to strong Santa Ana winds and low humidity that is expected to produce critical fire weather conditions across Southland, the National Weather Service said.
The weather service in Los Angeles/Oxnard issued a red flag warning for wind and low relative humidity, which is in effect from 3 a.m. Thursday to 6 p.m. Friday in the Los Angeles County mountains, Angeles National Forest, Santa Monica Mountains Recreational Area, the coastal area stretching into downtown Los Angeles and the San Fernando, San Gabriel and Santa Clarita valleys. The warning will also cover all of Orange County and most of Ventura County and the Los Padres National Forest. 
This alert could be extended if atmospheric conditions hold up. FOX 11 will be closely monitoring the possibility of the addition of wind advisories, high wind watch/warnings, and red flag alerts in our area. 
During a red flag warning, residents are advised to be extremely careful with open flames. 
Details and fire weather watch alerts related to the upcoming Santa Ana winds can be found on the FOX 11 Weather Authority App. Click here for iOS. Click here for Google Play.
Fire agencies will be staffed around the clock and adding strike teams in urban/wildland interface areas vulnerable to damaging wildfires.
"With some of the most destructive and deadliest fires occurring October through December, we need Californians to not be complacent,'' Cal Fire Chief Thom Porter said. "Wind-driven fires move fast, and residents need to be ready to evacuate at a moment's notice in the event of a wildfire. We have increased our staffing, but need the public to remain vigilant. It is important to follow evacuation orders and leave early as fires move very fast under these conditions.''
Related: NWS: Santa Ana winds expected to blow into Southland, raise fire conditions
We can expect controlled power shutoffs and outages to take place in multiple locations, with varying times depending on the winds. Southern California Edison said it could shut off power for about 80,000 customers in San Bernardino, Riverside, Los Angeles, and Ventura counties.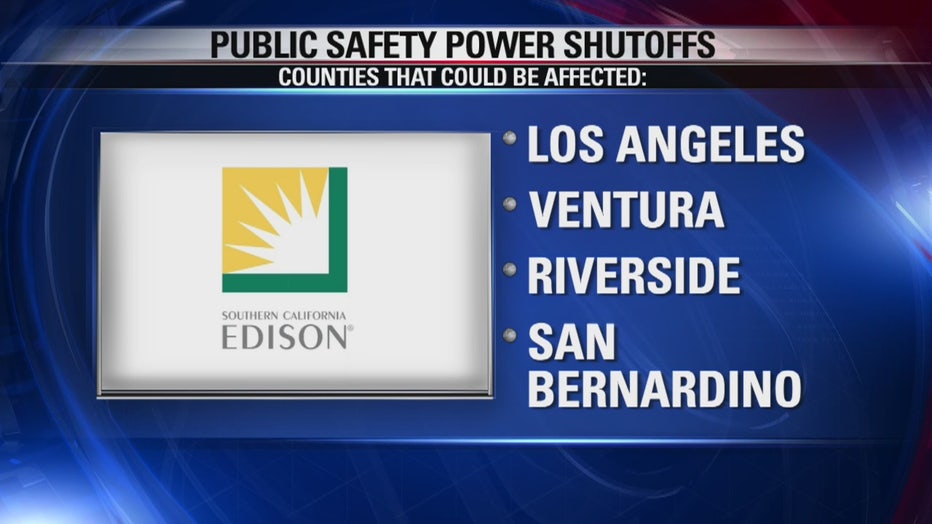 The Santa Ana winds are strong, extremely dry downslope winds that originate inland and affect coastal Southern California. They originate from cool, dry high-pressure air masses in the Great Basin. The fast-moving winds dry out vegetation, making it better fuel for a fire — and once a fire starts, the winds fan the flames and help spread them.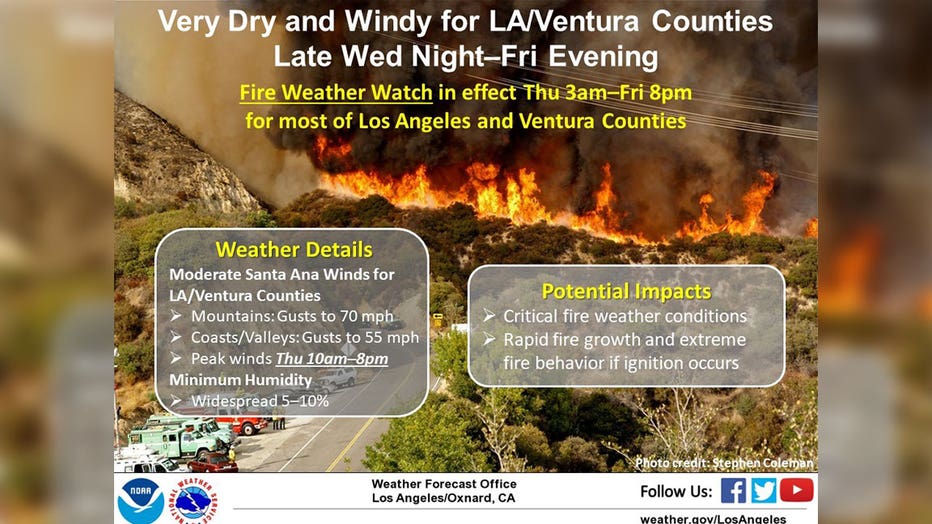 Forecasters noted that "if fire ignition occurs, conditions may be favorable for extreme fire behavior, which would threaten life and property.''
NWS said the wind will gust at between 45 and 70 miles per hour Thursday afternoon and evening amid humidity levels of 3 to 10 percent. Given the abundance of dry vegetation, "critical fire weather conditions are likely,'' the NWS said in a statement.
To get the latest on SCE's Public Safety Power Shutoff, visit https://www.sce.com/safety/wildfire/psps.
CNS contributed to this report.