Rancho Cucamonga man arrested after allegedly lighting mother on fire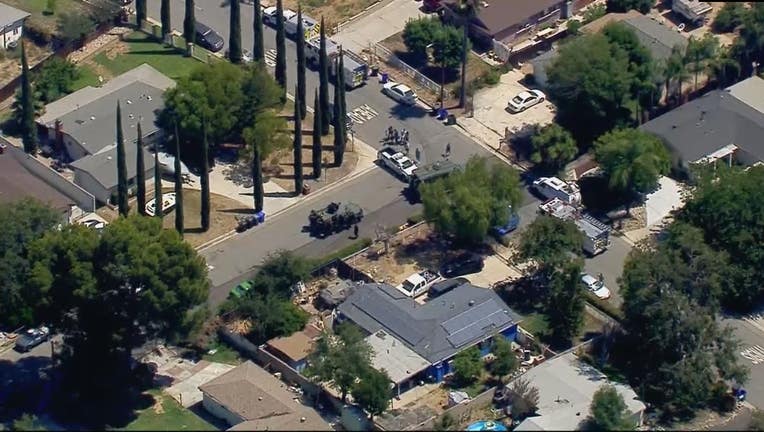 RANCHO CUCAMONGA, Calif. - A 54-year-old Rancho Cucamonga man accused of lighting his mother on fire Monday morning is behind bars after an hours-long standoff that had neighbors evacuated from their homes.
At about 6:09 a.m., Rancho Cucamonga police was requested by the Rancho Cucamonga Fire Department after responding to a home in the 13000 block of Vine Street and locating a 73-year-old woman who told firefighters that her son, Gilbert Banuelos, had set her on fire, according to authorities.
The victim was taken to the hospital where she remains in critical, but stable condition.
Investigators say Banuelos barricaded himself inside the home before deputies with the San Bernardino Sheriff's Department showed up. After about five hours, deputies from the Specialized Enforcement Division deployed a chemical agent into the home forcing Banuelos to exit the home. However, authorities say he was still defiant and had to be brought down with less than lethal rounds before being taken into custody.
He was taken to a local hospital for a medical evaluation before being booked into jail. He faces several criminal charges including resisting arrest and attempted murder.
Nearby residents that had been evacuated due to the incident were allowed to return back to their homes soon after Banuelos was taken into custody.
Anyone with ifnromation regarding this investigation is asked to call the Rancho Cucamonga Police Department, which is handled by the San Bernardino Sheriff's Department, at 909-477-2800. Anyone wishing to remain anonymous can call the We-Tip Hotline at 1-800-782-7463.