Pursuit ends in busy Hollywood tourist area
LOS ANGELES - A large police presence flooded the Hollywood & Highland complex in Hollywood Thursday night following a vehicle pursuit.
Police continue searching for one suspect who fled on foot after crashing their vehicle at one of the busiest areas of L.A. during a Star Wars movie premiere.
The public was told to avoid the area. Nearby streets were temporarily closed off.
LAPD says two male suspects were involved in this incident and have one of those suspects in custody. Authorities believe the second suspect escaped their perimeter.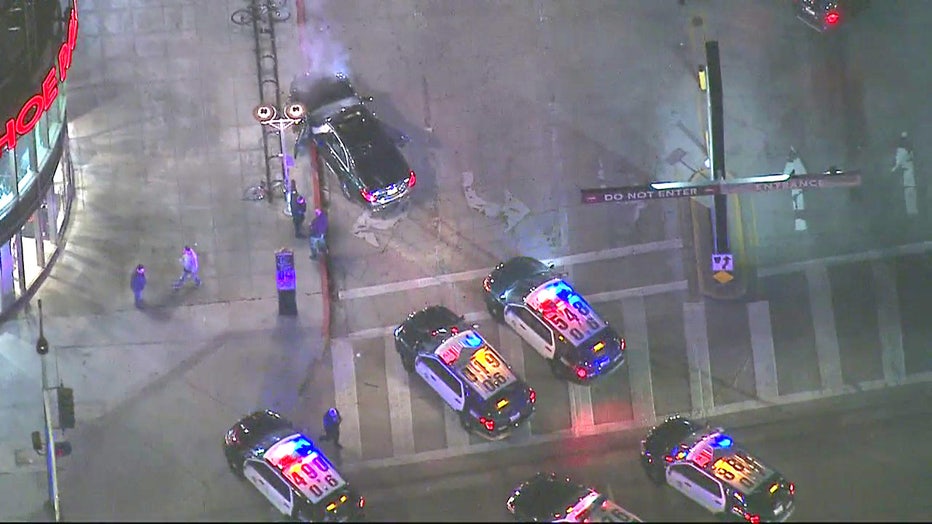 The suspect on the loose is described as a black male adult with dreadlocks, wearing dark-colored pants and a grey hoodie. 
It's unknown if the suspects were armed, said LAPD Sgt. Mark Cohan. Some businesses were asked to shelter in place but authorities are working to re-open the area as soon as possible.
The pursuit began when officers spotted a possible stolen vehicle. When the pursuit entered the Hollywood area, Sgt. Cohan said a crash occurred between the suspect vehicle and a police vehicle.
The chase eventually ended when the suspects crashed at the Hollywood & Highland complex. Both suspects immediately fled the car and ran into the complex with holiday shoppers and tourists looking on. One of the suspects was quickly apprehended.
The investigation is ongoing. No further details were immediately known.
WATCH: Police pursuit ends in Hollywood
Check back for updated information.