Protest planned after horse dies at Santa Anita racetrack on New Year's Day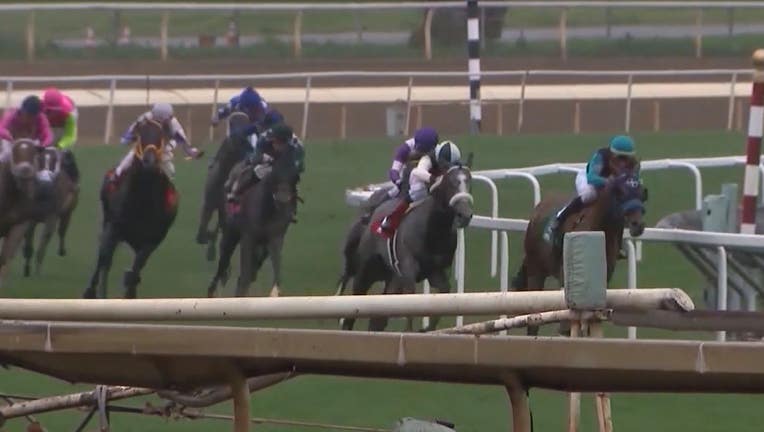 ARCADIA, Calif. - The activist group Horseracing Wrongs plans to conduct a vigil for fallen horses and a demonstration against horse racing Saturday morning outside Santa Anita Park in response to the latest horse death at the track.
Officials say 4-year-old Golden Birthday sustained a hind pastern fracture sesamoid involvement during a race on New Year's Day. The horse was euthanized shortly after.  
Golden Birthday is the 39th horse death reported at Santa Anita since December of 2018. 
After the horse's death, PETA released the following statement, "2020 should be the year that either the deaths stop or horse racing does. Right now, racing must be suspended. California officials have made substantial improvements to protect horses, but they're not done yet. Horses like Golden Birthday, who didn't live to see his fourth birthday, are still whipped and still administered the powerful diuretic Lasix. CT scan equipment is not yet in place and cruel practices like shockwave therapy have not been banned. The district attorney's weak investigation isn't going to stop the fatalities, so we must rely on the governor and the California Horse Racing Board to suspend racing until every possible precaution has been taken to protect horses."
Related: Santa Anita Park begins winter racing season amid protest
L.A. prosecutors find no criminal liability in horse deaths at Santa Anita
Golden Birthday had two wins and two second-place finishes in 10 career starts, earning $117,894. A necropsy will be performed as required by the California Horse Racing Board.
The death is the second at Santa Anita in seven days. The 3-year-old gelding Truest Reward fractured his left shoulder on the training track Dec. 26 and was euthanized.

The winter racing season began on December 28th after facing criticism from animal-rights activists. On opening day Animal-rights activists held a "funeral'' and "vigil'' outside the track for the horses that have died over the past year.
There was no response to a request for comment from Santa Anita Park or its parent company, The Stronach Group.
CNS contributed to this report.