Protest at JFK Airport over immigration crackdown from Muslim countries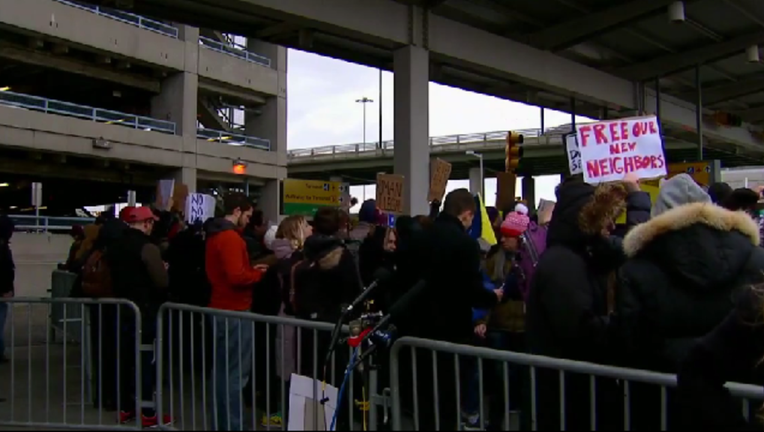 article
(AP-STORYFUL) - The fallout is growing from President Donald Trump's immigration crackdown.
Trump's Friday ban on asylum-seekers came down even as some refugees were midflight to the U.S.
Also, Saturday, other travelers were turned back on arrival at U.S. airports or blocked from boarding flights to America. That reportedly happened to two families in Philadelphia.
Overseas, Iranian's state news agency reported the Islamic Republic will `retaliate' against order limiting immigration from Muslim-majority countries.
Iran's foreign ministry is suggesting the country will limit issuing visas to American tourists.
That's because Friday, Trump signed an executive order making major changes to America's policies on refugees and immigration, including suspending immigration and visas for people from countries including Iran.
Saturday, the official IRNA news agency carried a statement by the Iranian foreign ministry that said Iran will resort to "counteraction" to Trump's executive order.
The statement says: "Iran, to defend the dignity of the great Iranian nation, will implement the principle of reciprocity until the removal of the insulting restriction against Iranian nationals."
The statement adds: "It will apply corresponding legal, consular and political actions."
A federal law enforcement official who had confirmed the temporary ban said there was an exemption for foreigners whose entry is in the U.S. national interest. It was not immediately clear how that exemption might be applied.